Written by Tech. Sgt. Joseph Harwood
Combined Joint Task Force – Horn of Africa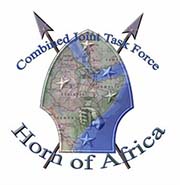 Mogadishu, Somalia – The 101st Airborne Division, based out of Fort Campbell, KY, has trained the first logistics class of the Somali National Army (SNA) in support of the African Union Mission to Somalia (AMISOM), during a 6-week training course in Mogadishu, Somalia.
The course concluded May 24th, 2017, with a graduation ceremony attended by the Prime Minister of Somalia, Hassan Ali Khayre, Somalia's Chief of Defense, Gen. Ahmed Mohamed Jimcale, and the U.S. Ambassador to Somalia, Stephen Schwartz.
The importance of logistics and the impact of its effectiveness during a military campaign are highlighted in the 5th century BC book written by ancient Chinese military strategist Sun Tzu, "The Art of War." Sun Tzu wrote, "The line between disorder and order lies in logistics."
«Read the rest of this article»