Written by Joe Pitts
Tennessee State Representative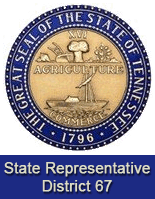 Nashville, TN – In 2006 the folks of House District 67 gave me the high honor of electing me the first time to be their State Representative. I always referred to the opportunity as a "two-year contract" between me and those that I represent. And I knew I would one day have to say good-bye to this opportunity and that day is on the horizon.
At the conclusion of the 110th Tennessee General Assembly, in 2018, I will retire from this season of service. The time just seems right. It is time for me to step aside, and allow another citizen legislator to experience the excitement of helping their constituents…some of the finest people anywhere.
«Read the rest of this article»