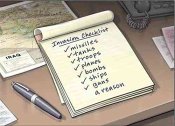 I frequently review the top 100 videos on both Google video, and Youtube, looking for interesting materials to share with the readers of this website. I look at the dross, so that you don't have to.
Since September 11th there have been those who say that what we actually saw, may not have been what we thought. Videos on this subject have been in the top 100 videos on Google video for a long time. Well after a new one recently appeared in to the top 100 videos, I felt that perhaps we should all take a look. I make no judgments on the content of these videos. I don't advocate for them or against them, consider this simply an exercise in constructive reasoning. «Read the rest of this article»

In the Leaf Chronicle the Clarksville, TN newspaper today was a editorial "Bush has proved to be lawless, reckless: Centrists who support Jefferson's values are starting to gain strength" by David Broder. Of course this brought the Republican wingnuts out of the woodwork, and they immediately launched into their tactic of attacking anyone who dares to disagree with them.
Some tasty quotes, "lock-stepping with the liberal press", "The anti-American crowd", "fools", "Typical liberal lies and drivel". They have been drinking the Republican's kool-aid for too long. Of course, I felt the need to respond. So here goes…. «Read the rest of this article»

Having just read a Leaf Chronicle story on the recent accreditation of the Clarksville Montgomery School System by the Southern Association of Schools and Colleges, apparently the second such district to be so "honored," I am appalled that until now the system has apparently not met the most basic academic standards for accreditation. I am equally appalled that, according to this story, most of the state's other school districts are seemingly too inadequate, too substandard, to be accredited. «Read the rest of this article»

Since 1983, Clarksvillians have called the Roxy Regional Theatre, their hometown theatre. This season, more than 45,000 area residents have been touched by the live performances at the Roxy Some 25,000 students have attended their morning performances while others have taken advantage of their pay-what-you-can preview showings which allow everyone, regardless of economic backgrounds, the opportunity to enjoy live theatre. Some have joined one of their Saturday afternoon matinees which are targeted towards senior citizens and parents with children looking for wholesome family activities. Many others have enjoyed one of the 212 scheduled evening events in either their Mainstage or the smaller Otherspace theatre this season. «Read the rest of this article»
My life is not that different than yours. I get up (usually quite some time after the alarm has gone off); grab a quick shower and a bite to eat before dashing off to work or school (usually unbelievably late). I work in customer service for a major cell phone corporation as an extension of the management team and take escalations from customers all day.
Overall, I enjoy my job. I come home, eat dinner, watch my DVR recorded TV shows (The West Wing, The Simpsons, and Eureka), read a chapter or two from a book, and fall asleep until the next day. I truly hope that my "gay lifestyle" is not offending anyone reading this quite yet. I have a townhouse near the hospital, a loving partner (Whom I don't see enough of as I'd like.), and a kitchen table that has more paperwork than the IRS director's desk. «Read the rest of this article»

Boston, September 14, 2006 — Starting today, everyone who visits the website of the Isabella Stewart Gardner Museum will be able to download free classical music and share it with anyone, anywhere.
"The Concert", is the museum's new classical music podcast, features unreleased live performances by master musicians and talented young artists recorded from the museum's Sunday Concert Series, the nation's longest-running museum music series. Today, the museum posts the first in a series of 45-minute podcasts, including music by Beethoven, Mozart, Schubert and Chopin for solo piano, orchestra, string quartet, and voice. A new podcast will be posted on the 1st and 15th of every month, and users will be able to subscribe to receive free, automatic updates delivered directly to their computers or mp3 players. «Read the rest of this article»
Tonight's theme is media consolidation and the corporate media. I have rounded up a collection of videos from Youtube and Google Video which highlight some of the issues raised by the massive over consolidation of the media, giving a just few companies,  full control over what you see, hear, and read. You only have to look at the recent attempt to rewrite history attempted by the Disney Corporation in cahoots with ABC to see why this should concern all of us. «Read the rest of this article»

This video says it all. Sure it shows a Diebold instead of a Microvote Infinity, but can we say something like this has not been created for other machines like the Microvote Infinity. Without a paper trail you CAN NOT detect vote manipulation on electronic machines. No matter what the Voting machine manufacturer told you.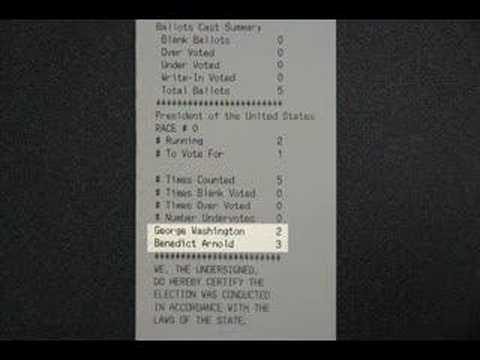 It's time to demand that electronic voting machines are not used in any US or Tennessee elections, until there is a voter verified paper trail, HAVA be damned! Contact your election officials: Vickie Koelman, Riley C. Darnell, Phil Bredesen

In 2002 a new voting district was born, one that encompassed parts of Montgomery and Williamson Counties, but most of Cheatham County.  This, ignored and least talked about district, even among its constituents, is the Tennessee House of Representative seat for District 78.
How did this district begin being taken for granted you ask, and why isn't a lot of talk circulating about this district?  Many point to the fact that the 8,050 registered Montgomery County voters that make up part of District 78 are being over looked due to the fact that the majority of the 78th District voters, over 30,000 of them, rest in Cheatham and Williamson Counties. «Read the rest of this article»

With every passing month, the United States falls further behind the global leaders in broadband Internet access thanks to a combination of market and policy failures. Our markets lack the competition to bring lower prices, higher speeds, and universal access. Our policies lack the imagination and potency to create real change. Meanwhile, Americans pay more money for less service than a dozen other nations. A third of U.S households are still stuck with dial-up, and another third lack Internet access of any kind. Our broadband problem is becoming a crisis. «Read the rest of this article»