Video website extraordinaire YouTube, now owned by search engine mogul Google, may find itself in deep trouble before long. Not long after CEO Eric Schmidt commented that media companies will have no choice but to work with online sites, the Viacom Company, owners of MTV, Comedy Central, and Paramount, responded with a 1 billion USD lawsuit claiming that YouTube has committed something to the order 160,000 copyright violations. At issue is whether YouTube has actually violated the rights of Viacom. YouTube asserts that it has met legal and moral requirements by removing content upon request of the copyright holder. Viacom disagrees contending that the basic business model of YouTube is based on copyright infringement. Viacom contends that, "Their business model, which is based on building traffic and selling advertising off of unlicensed content, is clearly illegal and is in obvious conflict with copyright laws."  
«Read the rest of this article»

Anger. Feelings of rage. Unable to turn down the hyper-vigilance necessary overseas but not here. Soldiers coming back from their first tours in Iraq felt some of these things, but it wasn't until many returned from a second, often overextended, deployment that such feelings exploded in extremely high numbers.
"I don't even want to know what they will be like after a third tour," Coe said, estimating that as many as 40% of returning troops face mental health issues relating to Iraq and Afghanistan.
Clarksville therapist Mary Coe, AVP, is one of many private practitioners across the country who are working to manage the "extremely high numbers" of soldiers coming home with serious mental health issues. Coe was recently interviewed by the New York Times, where she also spoke out about the high mental cost of war on troops and their families and communities. «Read the rest of this article»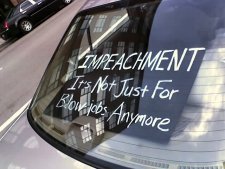 Below is a video clip of a Chuck Schumer and Diane Feinstein press conference about the politically motivated firing of US Attorneys and the resulting scandal.
If they won't step down It's time to impeach all complicit individuals in the Bush Administration, and let God sort them out. This includes the Attorney General, Harriet Myers, Karl Rove, and if they had any involvement at all the President and Vice President.
«Read the rest of this article»