If you build it, they will come.
In the Kevin Kostner film, Field of Dreams, those paraphrased words brought a dream to life. Clarksville has the potential for dreams to come alive.
I love Franklin Street in downtown Clarksville because it reminds me of home, but on a microscopic scale. Refurbished old buildings creatively filled. It has a bit of charm. I know about the ravaging tornadoes, the destructive force which left downtown looking like the dregs of a city whose time has passed. But its time hadn't passed.
When I read of the proposals for downtown and riverfront development, all I could say was "yes, yes, yes." And if takes a tax hike to do it, then raise taxes. Find private investors. Seek out "Main Street" grants. Get the bigger businesses involved. «Read the rest of this article»

Court TV's Catherine Crier occasionally does a segment called The Crier Wire during her Catherine Crier Live program. On March 29th she did a piece called "IF GEORGE WERE KING" as she said "Given the last 6 years, the idea is not so far-fetched". I don't think this piece needs further comment on my part, It's pure perfection….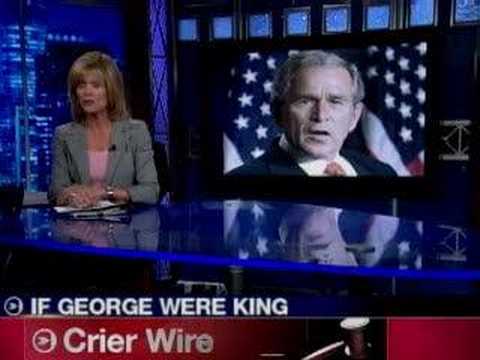 She has a personal web site as well.
«Read the rest of this article»