Make Hip Hop Not War speaks truth to power at West Park Presbyterian Church in NYC. Rev. Lennox Yearwood calls for impeachment and an end to the war, and encourages people to mobilize for the April 28 nationwide impeachment protests.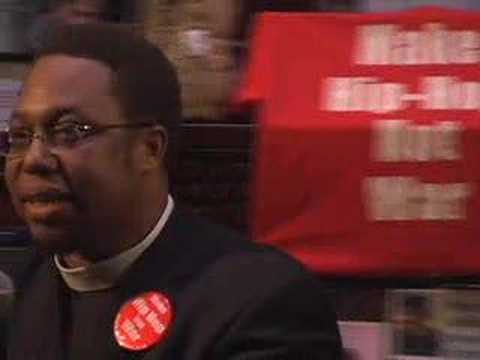 BREAKING: Congressman Dennis Kucinich (D-OH) announced April 23rd, that he will file articles of impeachment against Dick Cheney. Further details will be released at a press conference on Tuesday, April 24, 2007 at 5 p.m. on the Cannon Terrace, intersection of Independence and New Jersey Avenue.
George Bush and Dick Cheney have lied the nation into a war of aggression, are spying in open violation of the law, and have sanctioned the use of torture. These are high crimes and misdemeanors that demand accountability. Since Congress doesn't seem to get it, on April 28 Americans from Miami, Florida to North Pole, Alaska are going to spell it out for them: IMPEACH! It's time to say NO to impunity for lying, spying, and torture. «Read the rest of this article»

If you missed seeing it, or if you wish to forward it to your email lists, You can watch Bill Moyer's Journal:  Buying the war online.
How the administration marketed the war to the American people has been well covered, but critical questions remain: How and why did the press buy it, and what does it say about the role of journalists in helping the public sort out fact from propaganda?
Set your PVR's and stock up on popcorn, because this is really gonna be can't miss TV.
David Swanson, who saw an advance copy of the program, writes, "Spending that 90 minutes on this will actually save you time, because you'll never watch television news again-not even on PBS, which comes in for its share of criticism."
«Read the rest of this article»