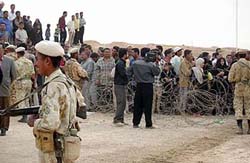 This is the surge the other way; the hemorrhaging of a dying nation. A humanitarian disaster unfolding the UN says; nearly four million Iraqis displaced now by sectarian cleansing, kidnap and carnage; two million have fled altogether, half of them here in Syria; bus load after bus load arriving in Damascus, a hundred thousand more every month.
A special report on the millions of refugees fleeing the conflict in their country. Where is the coalition of the willing when it comes to their care?

They'd fled the murderous bloodshed of their homeland. But instead of finding a better life abroad – Iraq's growing number of refugees are trapped instead in a humanitarian crisis.

They're forced to live in the shadows – without work, money or prospects. Neighbouring countries refuse to recognise their plight – Britain and the United States – whose invasion sparked the turmoil in Iraq – have accepted just 500 refugees. Only Sweden is providing a home for the thousands looking for a better life outside the Middle East. But their numbers continue to grow.

The spiralling violence means 50,000 people are now flee their homes in Baghdad and Iraq every month.

Around two million have headed to Syria and Jordan. But refused refugee status and facing ever tightening restrictions – they're having to rely instead on people smugglers – who charge up to $20,000 a time.  – Jonathan Miller of the BBC
«Read the rest of the BBC article about this video»
About Bill Larson
Bill Larson is  is politically and socially active in the community. Bill is a member of the Friends of Dunbar Cave.

You can reach him via telephone at 931-249-0043 or via the email address below.
Sections
Politics
Topics
Crisis, Humanitarian, Iraq, Refugees, War