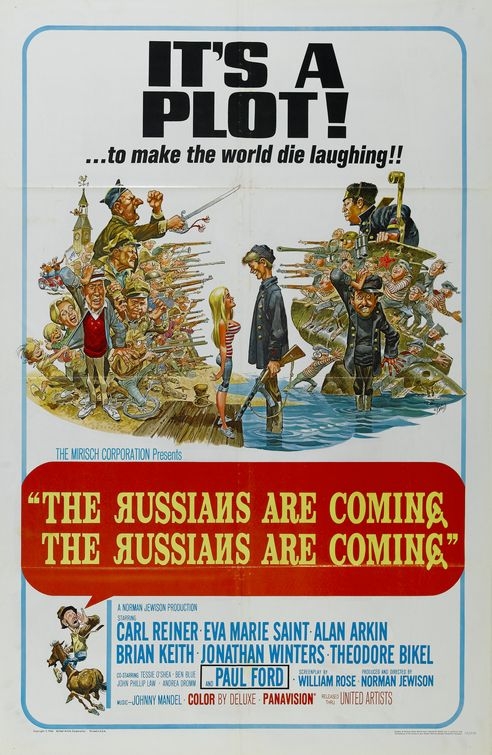 The Cold War was raging in 1966. That's when Alan Arkin's comic restraint was the fuel the fired the hilarity in the whacky comedy, The Russians Are Coming, The Russians Are Coming. It's a rollicking romp along the eastern shoreline when a Russian sub is stranded on cold war American soil.
The Russian captain is scared death, and he's not sure if it's of the Americans or of what will happen if his own superiors find out he grounded their sub. Carl Reiner is Walt Whittaker, all-American family man first convinced there's an invasion about to begin, then becoming an ally with his new found Russian visitor. Toss into the mix a light romance between young Russian sailor Alexie (John Philip Law) and Alison Palmer (Andrea Dromm), and supporting performances by Eva Marie Saint, Theodore Bikel and Brian Keith — each manifesting precise comic timing in this old-fashioned slapstick oceanfaring adventure. It's a got a message too, as exemplified in this tidbit of dialogue between the young couple:
Alexei Kolchin: "In Union of Soviet, when I am only young boy, many are saying, Americanski are bad people, they will attack Russia. So all mistrust American. But I think that I do not mistrust American… not really sinceriously. I wish not to hate… anybody!
[He throws a stone into the sea]
Alexei: This make good reason to you, Alison Palmer?
Alison Palmer: Well, of course it does. It doesn't make sense to hate people. It's such a waste of time. «Read the rest of this article»

The City of Clarksville, Tennessee and Bill Roberts Automotive will present the next Movies In the Park at Fairgrounds Park on July 28 as part of The Leaf Chronicle's Parks After Dark Series.
This month, the event will include a double feature with movies starring Harrison Ford as a legendary action-adventure hero. Pre-show games will begin at 7:15 p.m. and the movie will begin at 8:30 p.m. Both movies are rated PG. Admission is free and concessions will be available. «Read the rest of this article»
I just received owl mail informing me that Miss Trelawney will be at Hastings Bookstore tonight, the eve of the release of the new Harry Potter book.  She will be performing hand readings on children of all ages.  It is rumored that this is not the Miss Trelawney in the Harry Potter books, but her sister, Dee Dee. 
Fortunately or unfortunately, both sisters seem to have received "the gift" of reading spirit in crystal balls, tea leaves and hands.   The 7th and last book in the Harry Potter series will be released at 12 midnight tonight.  Grimm news that the Dark Lord has come into full power and can only be stopped by an unlikely hero is the breathtaking reality.  We wait to see if the pure hearts of the adventurous children can overcome the death eaters.  But what has this got to do with you?  «Read the rest of this article»