Several times over the past year I've had the opportunity to taste this Spinach and Artichoke Dip, a smooth, warm, creamy blend of cheeses and chunky artichoke hearts. I tend to hover near the serving dish, garnering every opportunity to have "just one taste."
So from Beverly Fisher's kitchen, we present her oh-so-simple "comfort food" recipe with the notation that, like many family recipes, there is room to personalize, to add a little, take away a little, and still have a great addition to your holiday table.
Spinach Artichoke Dip

1 bag of Spinach

2 to 4 cans of artichokes (cut-up)

Generous glops of mayonnaise, and sour cream (enough to moisten)

Generous amount of Parmesan cheese or Parmesan/Romano cheese

Combine these ingredients, or as Beverly says, "stir it all up," then bake for 2-30 minutes at 300 degrees.

Serve with chunks of crusty bread (our assorted bread selections came from the piping hot ovens at Silke's) or anything else that merits dipping into this warm, tasty mix. Thank you, Beverly, for sharing this with all of us.

Clarksville's chapter of the American Association of Retired Persons (AARP) is a dynamic and progressive organization that mets on the second Tuesday of every month at 10 a.m. at the Hilldale United Methodist Church.
Their monthly meetings include informational programs, most recently on St. Jude's Children's Hospital, whose remarkable service and ministry is available to families and children through our region. One of the goals of the Clarksville AARP is to provide stimulating and thoughtful programs to its local emmbers.
Presently the Chapter, along with all national chapters, are working to sensitize our Congressional leaders to issues of retiremen, medical and financial issues for seniors.
As members, we accept the challenge of informing elected leaders — Senators Corker and Alexander and Representative Blackburn — on the following issues:
Ensure all Americans have access to quality, affordable health care, including important preventative and patient care and affordable prescription drugs.
Create additional choices for necessary longterm care services
Strengthen and protect Social Security for this and all future generations
Provide greater access to retirement plans, financial incentives to save and tools to better manage finances and help prepare for retirement
Develop policies to help ensure that all workers — regardless of age — can continue to work and contribute to society.
Seniors are invited to join us at our monthly meetings to volunteer to help American become aware of these goals. AARP is non-partisan and does not have a political action committee (PAC), nor does it endorse political candidates or contribute to political campaigns.
Anyone age 50 and older is welcome to join and participate in the AARP programs and activities. Each meeting include refreshments and an opportunity for fellowship.
With the holiday and gift-giving season quickly approaching, it is time to start thinking about gifts for the coffee lover in your life. How about a gift basket filled with delightful coffee notions and potions? You can shop online or go to your favorite coffee shop and buy a pre-packaged gift basket. However, putting together a coffee gift basket is fun and easy, and it has a nice personal touch.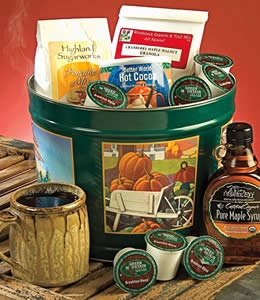 Start by selecting a container in which to put your items. You might choose a wicker basket, a keepsake tin, or a nice gift bag. You can even decorate a shoe box and make it really special. Line the bottom of the container with a cloth liner or tissue paper before you start. A decorative dish towel is a great choice because it can be used later in the kitchen.
Next, you will want to consider the recipient and the items he or she might enjoy. Something especially good this time of year is the seasonal flavored coffees such as pumpkin spice, apple jack, almond, butter pecan or eggnog. These are more memorable and festive than non-flavored coffee. You might include several small packs of gourmet flavors. «Read the rest of this article»