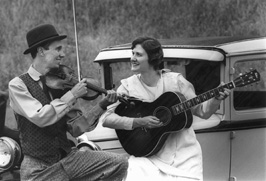 The Cantrells, who were featured in the Robert Redford film, A River Runs Through It (pictured left), will bring their unique blend of music and song to the Customs House Museum Saturday, November 17 for a free workshop at 3 p.m. and a concert performance at 7 p.m. Concert tickets are $5.00.
The Cantrells will share explore Tennessee's history of fiddling, share stories and play classic Tennessee tunes during the workshop, which does not require musical experience, just a love of the sound and the songs.
Al and Emily Cantrell cast a magical spell with their airy, joyful acoustic songs. Emily uses her voice as an instrument on soaring vocals like a country Joni Mitchell, while AL plays off her Martin guitar with spirited fiddling and a dazzling mandolin technique–his music weaves through her words as if the two were locked in an intuitive dance. «Read the rest of this article»
Age?
The other day a young person asked me how I felt about being old. I was taken aback, for I do not think of myself as old. Upon seeing my reaction, she was immediately embarrassed, but I explained that it was an interesting question, and I would ponder it, and let her know.
Old Age, I decided, is a gift.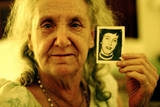 I am now, probably for the first time in my life, the person I have always wanted to be. Oh, not my body! I sometime despair over my body, the wrinkles, the baggy eyes, and the sagging butt. And often I am taken aback by that old person that lives in my mirror (who looks like my mother!), but I don't agonize over those things for long.
I would never trade my amazing friends, my wonderful life, and my loving family for less gray hair or a flatter belly. As I've aged, I've become kinder to myself, and less critical of myself. I've become my own friend. «Read the rest of this article»
Clarksville is about to light up its annual Christmas gift to the community: Christmas on the Cumberland. Mayor John Piper will flip the switch and start the magic in a special ceremony on Tuesday, November 20 at 6:30 p.m. on the McGregor Riverfront Walk on Riverside Drive. This year's theme is The Spirit of Christmas.
This holiday event is indeed a gift, this blazing display of lights and imagery reflected in the dark wintry waters of the Cumberland. It launches the start of the holiday season and will run through January 1.
The familiar Christmas villages, small vignettes, snowpeople, skaters, Santa's workshop with dancing elves, and two arched lighted tunnels line the meandering walkways of the park, inviting a evening stroll and the casual camaraderie of friends and will be familiar to anyone who has visited in the past. «Read the rest of this article»