Seven years ago this month, Bush stole his first election with the help of his Daddy's Supreme Court appointees. In 2004, he accomplished that same feat with the help of his friends who owned the electronic voting machine companies.
Today, though there is no longer a single state where Bush enjoys majority support and his foreign policy failures abound, Bush still claims to have created a robust economy. Let's look at some comparisons:
Seven years ago, you could buy a Canadian dollar for $.59 — now it costs you $1.07.
Then, you could buy a Euro for $.97 — now it costs you $1.43.
Then, you could pickup a gallon of milk for $2.87 — now the price has risen to around $4.18.
Then, a gallon of regular gas cost $1.44 — now it's over $3.00 (and rising fast). «Read the rest of this article»
In an intimate setting at the Customs House Museum Saturday night, The Cantrells delivered a toe-tapping concert performance of many of their unique blend of folk, fiddling and down-home music.
While the audience was small, enthusiasm for these performers was deservedly huge. The repertoire ranged from a rendition of Fats Waller's Honeysuckle Rose to a striking cover of Autumn Leaves, from a step in Appalachian Spring to This Quilt, a story song of a quilt and the "threads of time."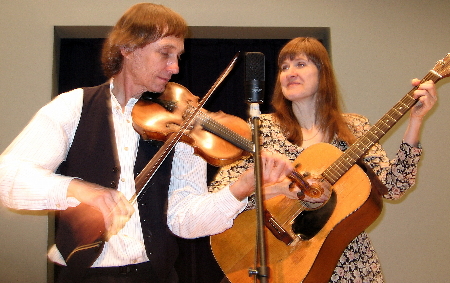 Al and Emily Cantrell
Al and Emily Cantrell (above), simply dressed (but with a splash of glittery buttons on Emily's dress) did what they do best: make music. No back up bands, no yards high stacks of speakers, just a guitar, a fiddle, mandolin, guitar and great voices. Nothing else was needed. «Read the rest of this article»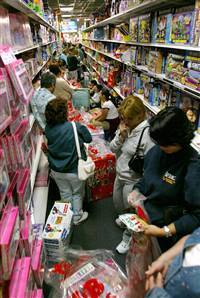 "Black Friday" has traditionally been the start of the holiday retail season, a ghastly exercise in consumerism that has reached epic proportions, taking the focus off the Thanksgiving holiday and instead thrusting the spear of hefty ads sections to be perused during the Turkey day half-time shows.
All week I have been reading about stores launching pre-Thanksgiving Day sales, and "news" stories of 4 a.m. openings and expected lines of customers, steaming coffee in hand, snaking around buildings in long lines, queued up to vie for the best of the best bargains ASAP.
Sorry, folks. I don't buy it. Or I should say, I already bought it, back in January, when the end of season sales happened. I shopped heartily and at my leisure, picking up great deals for as much as 80% off the lowest ticket price. I keep a covered bin handy in the back of my closet for such purchases; I find, buy, fold or package carefully and store. Comes in handy for occasional birthdays, "just because" gifts, extras for the grandchildren, and of course, Christmas giving. «Read the rest of this article»