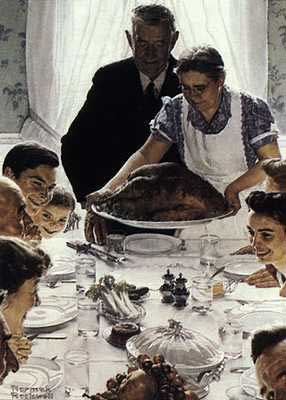 Freedom from want
As we enter this Thanksgiving Day, we are drawn to thoughts of hearth, home , family and family of the heart.
Though the faces, the hairstyles, the clothing may seem old-fashioned, the Norman Rockwell painting, Freedom from Want (at left) exemplifies what most of us see as the perfect Thanksgiving: a table laden with food, our families intact, disagreements set aside, and our dreams and despair shunted aside for a brief hours of well-nourished peace and companionship.
The painting is classic, and rooted in a yesterday that too soon become a grim reality. It is the height of irony that as we sit down to our Thanksgiving dinners today, the Four Freedoms articulated by President Franklin D. Roosevelt have resurfaced as the very issues for which wars are being fought. The Four Freedoms were first spoken by Roosevelt on January 6, 1941, in a State of the Union address to Congress just eleven months prior to the Japanese attack on Pearl Harbor — our "Day of Infamy."
In what has become known as the Four Freedoms speech, Roosevelt designated four benchmarks of fundamental human freedoms everyone "everywhere in the world" ought to enjoy:
1. Freedom of speech and expression
2. Freedom of every person to worship in his own way
3. Freedom from want
4. Freedom from fear
He took his belief beyond the Constitution and its first amendment protections, extending this ideal as a model for humanity. This endorsement of rights to economic security, this international perspective on foreign policy are now central tenets of American liberalism. «Read the rest of this article»
On a Tuesday morning, during my personal devotions of reading, I entered into further meditation's with prayer. I began this phase with gratitude and expressed my thought thus; I am grateful for the USO. Yes, the USO. Challenged with consoling and supporting our service members and their families.
The following is a story of how the USO volunteers, people like you and me, give comfort and assistance to our men and women in uniform.
Problem solving is also part of Patty Little's duties as a USO volunteer. Two days before Thanksgiving last year, she pulled out all the stops to help a young enlisted airman who found himself stranded at DFW International Airport.

The airman's child was scheduled to have brain surgery after Thanksgiving, but his emergency leave orders had come through too late. He couldn't get back home to Honolulu. «Read the rest of this article»