Film Director David Earnhardt and activist Bernie Ellis are coming to Clarksville for this city's premiere screening of Earnhardt's new film, Uncounted: The Movie on December 7 at 7 p.m. at the Unitarian Universalist Fellowship at 3053 Highway 41A South (two miles past WalMart on Madison).
Uncounted is a new documentary that explores the issues surrounding electronic voting and is a strong statement in support of a "paper trail" documenting how Americans cast their votes.

The film tackles the issue of voting machine error/failure, the need for a paper trail of votes, the political and business ties between government officials and manufacturers of these DRE (Direct Recording Electronic) voting machines, and the ease of tampering with such machines and "flipping" votes that are electronically counted.
"I cannot think of anything more important than to save the core of our democracy — the vote! — David Earnhardt (at right)

The film also reviewed extensive cases of mechanical errors, lost votes, voters turned away from polls, incomplete ballots and the installation of uncertified software into voting machine reported from across the nation.

«Read the rest of this article»
For some Clarksville residents, Black Friday started as early as 2 p.m. Thursday, Thanksgiving Day, when they began to queue up at Best Buy. By 8 p.m., lines of bargain shoppers were forming at a number of selected stores — generally electronics stores — around the city.
Cold weather dipping below the freezing mark did not deter these hardy shoppers, many of whom spent the earlier portion of Thanksgiving Day browsing the inch-thick stack of store sale flyers in the daily paper, scoping out the biggest, best sales. Many are motivated by expected "early bird" gifts and extra discounts offered to the first group of people in the store.
Electronics — everything from Digital High Definition televisions to computers or cameras seemed to be the gift of choice, as evidenced by the stores with the earliest arrivals and longest lines. «Read the rest of this article»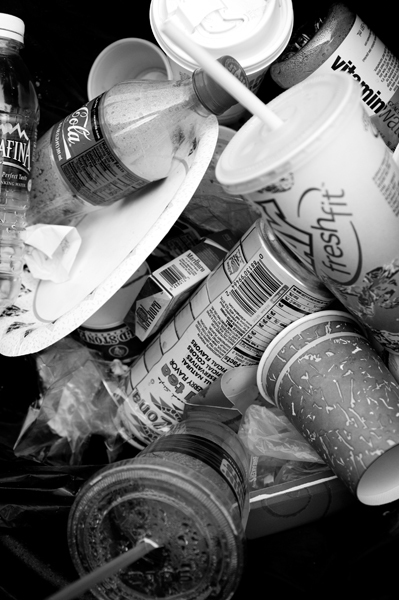 There's been a lot of talk in the past few weeks about litter, and the high cost in time and funding to clean it up. Those fast food wrappers and non-biodegradable styrofoam cups, soda cans, old rubber tires, pieces of tires, and a sea of cigarette butts carelessly discarded. The litter has been attributed to a level of laziness and a lack of pride among the people living in the Clarksville area.
Maybe, but if so, it is also shared problem, one that plagues many other communities across the country as well. The litter problem is just the surface, one with deepening roots, one that fuels discontent among our populace. A chunk of the problem boils down to a matter of pride and an issue of self-esteem for individuals as well as community. The litter is just a symptom.
We've evolved into a disposable nation with built-in obsolescence. Nothing we buy is built to last and surges in technology render last year's computers, televisions, cars obsolete within months of their acquisition.
We live life on the run, with a generation of youngsters who don't eat anything not wrapped in paper or packaged in little plastic trays, people who never learned table manners because they never eat a meal at a table – dining, kitchen or otherwise. Use it up, toss it out. Recycling optional, or maybe that too is just too much work. Our landfills are sinking and our groundwater becoming toxic under the weight of our excess. The evidence lines the edges of our roadways, pushes against our curbs, a slimy mess of debris seasoned with discarded cigarette butts and paper wrappers. «Read the rest of this article»