With their refusal to hear a San Diego County case yesterday regarding unannounced searching of homes of public assistance applicants, the Supreme Court once again turned noted English jurist William Blackstone on his head. In the view of the Roberts court, it is better that ten truly needy people suffer than one potential fraudster escape.Perhaps you just don't care. After all, it's just Cadillac welfare queens that the refusal applies to, right?
You better think again… «Read the rest of this article»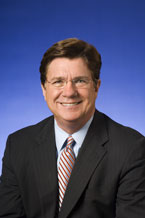 Tennessee House Majority Speaker Gary Odom will be the featured speaker at the Annual Montgomery County Democratic Party Christmas reception to be held Dec. 11 at 6 p.m. at the Smith-Trahern Mansion in downtown Clarksville.
Senator Rosalind Kurita, Speaker Pro Tempore, and Rep. Joseph Pitts of the 67th District are featured guests.
The MCDP is also asking for donations of American-made toys for the annual Fire Fighters Toy Drive. Toys may be brought to the party. the public at large is also asked to support the Firefighters toy drive with donations of toys that can be dropped off at any fire station in Clarksville.
For more information, call 931-216-9795 or 931-801-4821. Information on American made toys can be referenced at Clarksville Online's Nov. 25 story, Toy Shopping? Buy Made in the the USA".
In 2004, as U.S. Citizens prepared to elect a president, professors at Austin Peay State University were told that they would not be allowed to discuss the current election with students. On Tuesday, just over three years after that pivotal election year, a mock trial was held on campus, a trial that pitted the United States against its president, George W. Bush, for violations of the U.S. Constitution, the Bill of Rights and the Geneva Convention.
The trial was staged as part of a Constitutional Law I class taught by Professor Greg Rabidoux, Ph.D., J.D., and included a panel of Judges, Defense Counsel and Prosecutors, and witnesses; it filled room 308 of the Morgan Center and was a "dream come true" for many of us in the audience. Class member Michael Price said he "jumped" at the opportunity to be a prosecutor in this case.
Dr. Rabidoux and Defense Attorney DeJesus
«Read the rest of this article»