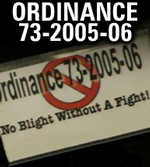 "It's all just a big mess."
Those words summed up the state of the city, City Council, and the Downtown District Partnership regarding the now infamous "blight" ordinance.
The Clarksville Property Rights Coalition met tonight at Austin Peay State University to review the status of a redevelopment ordinance put on hold by Mayor Johnny Piper when it was found to be in violation of state law.
Originally, the Downtown District Partnership had scheduled an informational meeting to explain what were termed "misconceptions" about the ordinance, which declares two square miles and 1823 properties in downtown Clarksville, with the solitary exception of Austin Peay State University, were declared blighted as part of an ambiguous redevelopment plan.
The DDP had suggested that the property in that area were "misinformed" about this legislation. As it turns out, the DDP "failed to use due diligence" and violated state law.
The mayor's findings and the cancelled meeting brought satisfaction to the citizen's group who felt their concerns about the ordinance have been substantiated. «Read the rest of this article»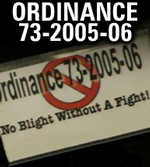 This letter was written prior to the cancellation of the DDP redevelopment meeting. However, it's message is one that deserves an airing, so Clarksville Online has opted to run it with the caveat that, for now, the controversial blight ordinance is on hold.
The Clarksville Center Redevelopment Plan (CCRP) was approved recently by the City Council. On Thursday, January 10, 6:00PM, at Austin Peay State University's Clement Auditorium, a meeting is scheduled at which the DDP (Downtown Business Partnership) and City officials will answer questions about the Plan.
The Plan is being challenged by concerned residents of Clarksville's historic districts and downtown areas, the Tennessee State Historic Commission, the Tennessee Preservation Trust, and others because it contains unclear language. The document uses the term "Blighted" in describing the entire Clarksville downtown area, (with the exception of property owned by APSU), which allows for homes to be taken via eminent domain by private developers. Public meetings prior to the approval of the document were limited. No letters were sent; many in the Plan area were not even aware such a document existed prior to the Council vote this past September. «Read the rest of this article»