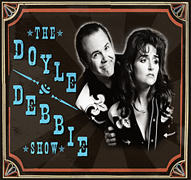 Do you love country music? Me neither.
From the Country Music capitol of Nashville, Tennessee, comes the Doyle and Debbie show (Live Theatre) with song favorites such as Whine Whine Twang Twang, When You're Screwing Other Women (Think of Me), Stock Car Love, Barefoot and Pregnant, I Ain't No Homo (But Man You Sure Look Good to Me), Daddy's Hair and so much more.
Performed by Bruce Arntson and Jenny Littleton, who is a native of Clarksville, the show has been an overwhelming success. That success comes to late night television tonight via the Conan O'Brien show (10:30 CST). The show precedes their appearance the next night at the midtown Manhattan B. B. King's.
"Littleton is talented as usual, using her coyly flexible voice to solid comic effect even when she's singing things straight-ahead. Arntson is often flat-out brilliant, inhabiting his frighteningly lifelike character with a passion and intensity worthy of the country entertainers he lampoons. His tongue-twisting delivery of the show's closing number is masterful." —Nashville Scene «Read the rest of this article»
The Clarksville City Council should rescind the "blight" ordinance. Start over. Make it right for the city and its residents.
Mayor Johnny Piper made the right decision in opting to cancel the public meeting on Ordinance 73-20050-06, acting on suspicion and subsequently on information that the the Downtown District Partnership and the City Council did not practice "due diligence" or follow state law in preparing, submitting and approving this plan. Over the past six weeks, Piper fired salvos toward former DDP members, stating there "may have been instances that they [DDP] did not follow state law."
That was one of the questions raised by members of the grassroots citizen group comprised of property owners and taxpayers, Clarksville Property Rights Coalition, who challenged the legality and the morality of the ordinance and have been proved right.
We had the opportunity to listen to residents from the affected area in a meeting last month. After reading the bill in depth and listening to everyone involved, We are fully convinced that this ordinance needs to be abjectly rejected by the County Commission and immediately repealed by the City Council. It's a rotten piece of legislation that has the danger of being precedent setting. If it sticks, then it will be even more dangerous. Hundreds of people have been attended various meetings in the last two months regarding the ordinance. Even more have been outspoken against it, including City Mayor Johnny Piper. «Read the rest of this article»