Chris Lugo announced his Democratic bid for the US Senate seat today in Nashville by encouraging Tennesseans to vote for peace in 2008. Lugo thinks the time has come for a Democratic Senator for Tennessee.
"We have had over a decade of Republican representation in the US Senate and look at where it has gotten us. We are at the bottom of almost every social indicator for quality of life. We are near the bottom of the list in terms of health, education, life expectancy and even infant mortality. It is time to invest in the health of our state instead of wasting our federal dollars on war and corporate subsidies." — Chris Lugo
Lugo said he is seeking the U.S. Senate seat because "it is time to end the war and bring the troops home. It is time to use our taxpayer dollars wisely to provide universal healthcare. It is time to repair our nation's domestic infrastructure. It is time to end poverty in America. It is time to end our dependence on oil by developing safe and viable alternative energy sources. It is time to leave our children a clean, healthy and peaceful environment in which to live and raise their families." «Read the rest of this article»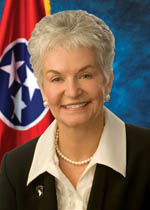 State Senator Rosalind Kurita, Speaker Pro Tempore of the Tennessee Senate, is looking for change in how Tennessee finds its Lieutenant Governor and Secretary of State.
"It is time to change history and open up statewide elected positions in Tennessee — as in almost every other state in these United States of America. As we begin 2008, we need to create a position for a popularly elected Lieutenant Governor in Tennessee. We also need to popularly elect the Secretary of State."
Kurita, in making this bid for new elected positions rather than the tradition of appointees to those key posts, said most Tennesseans "do not even realize that we do not have any voice in the selection of powerful statewide offices."
"During this past legislative session, I passed the first leg of this complicated process in the Senate. Now we must pass it in the House."
Kurita is now seeking support for this measure from the public, the voters into whose hands she would place the decisions on these important posts. "Your help is crucial to moving us forward in making "the election" process more open," Kurita said. «Read the rest of this article»
Tennessee voters go to the polls on February 5th for the presidential primaries in this state. Tennessee is historically not given a great deal of attention by most candidates, and this election cycle is shaping up to continue the trend.
Unfortunately, this means Tennesseans often have to rely on news media sound bytes to obtain information about the candidates. However, since news media are businesses and therefore have as their proper goal the making of money, this often leaves viewers with precious little information about how the candidates would actually go about running the county and a disturbing amount about their private lives.
Let's be honest, does it really matter than Barrack Obama has an Islamic heritage, that Hillary didn't leave Bill, that Mitt Romney is Mormon or that John McCain allows his adult children to live their own lives? «Read the rest of this article»