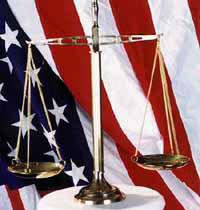 The State of Iowa captured the attention of the nation recently with the vigorous political campaigns within their borders.
Day after exhausting day this mid-western state was daily on TV and in the news. It overshadowed and neglected a recent but equally newsworthy event, yet this eclipsed event deserves an equally careful hearing and analysis.
The issue: a judgment by the 8th Circuit Court.
Americans United [for Separation of Church and State] won a lawsuit in federal court challenging the Iowa Corrections Department's support for Charles Colson's InnerChange, a prison program that trains inmates in evangelical Christianity.

"Faith-based" initiatives, which propose turning the provision of social services over to religious groups, threaten individual rights and could lead to taxpayer support of religious ministries. In those cases where religious groups want to take tax aid to provide relief, they should first agree to run secular programs and drop all forms of religiously based discrimination from their hiring policies." – Americans United for Separation of Church and State
This Iowa court rendered a profound, sharp and ringing endorsement on on religion and the use of tax-dollars to support and subsidize the "Inner Change Freedom Initiative" [ICFI] in Iowa prisons. «Read the rest of this article»
"I hear the approaching thunder that, one day, will destroy us too. I feel the suffering of millions. And yet, when I look up at the sky, I somehow feel that this cruelty too shall end, that peace and tranquility will return once more." The Diary of Anne Frank, unknown date, 1944.
Anne Frank penned those words 64 years ago while she hid from the Nazi regime in Amsterdam. However, on this day, when we commemorate the Holocaust perpetuated by Nazi Germany against Jews, Gypsies, homosexuals, Slavs, Catholics, and many others, we should be saddened and sobered by the fact the cruelty of which she wrote has not truly ended, but continues on in our own world." ~The Diary of Anne Frank (1943).
Often, when we look back at the holocaust, we fail to realize our own blame in its occurrence. Before anyone starts sending death threats, think about if for a moment. Yes, the ultimate force behind the deaths of some 11 million people was Hitler and the National Socialists. However, we must remember, the Holocaust started in 1933, six years before war broke out, and seven (almost eight actually) years before the United States became actively involved in the conflict that became World War II. Dachau, first of the concentration camps, opened in that year, while at the same time, the Jews were barred from Civil Service and multiple professions. Hitler went unchallenged by the rest of the world. «Read the rest of this article»