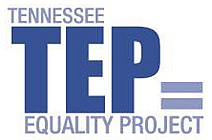 Get a good night's sleep, dress properly, be courteous, be on time, and be prepared. This sounds like advice for a job interview, but according the the folks at Tennessee Equality Project, it's also good advice for preparing to meet one of your state legislators, which was why they were in town last Thursday.
TEP is gearing up for its annual "Advancing Equality Day on The Hill" event. The event will start on February 18 at 3:30 PM with a candidate training at the Red Restaurant at the Tribe Bar on Church Street. The candidate training is free and open to the public, and is meant for those who may be interested in or who are already running for state office. After the candidate training there will be a reception in the small room at Tribe starting at 6PM. The event continues the next morning with a breakfast meeting at the Rymer Art Gallery on 6th Avenue, where the Honorable Sherry Jones will deliver the keynote address. TEP will then relocate outside the office of Mr. Speaker Naifeh's office while participants head out to meet with their legislators for the day. «Read the rest of this article»
While others look at candidates in this year's Presidential Primary as individuals competing against each other, I prefer to look at politics as the ultimate team competition. Presidential hopeful Barack Obama best illustrates this analogy. Right out of the box his competitors only concerns were how much of the black vote he could get, how well spoken he was and what his educational back ground was. Since then, many of them have been scrambling to play catch up based on their assumption that he was not a great team strategist.
For years, less privileged Americans have had to read about the triumphs and victories of selected famous elected politicians in our history books. Each and every ingredient required to run for office is well documented and available to the people via internet, written publications, and media sources. But the right combination on how to apply those ingredients and how much to use for political success has always been the missing link among candidates struggling for local office — and the ultimate political heavyweight prize of them all, the Presidency of the United States of America. «Read the rest of this article»