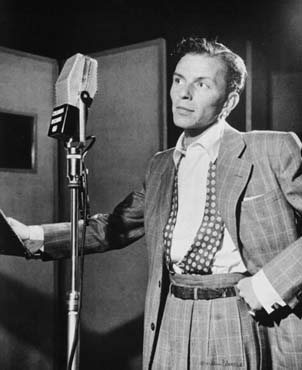 As a little girl, one of the stories my mother told me was of a trip to New York City with fellow singers to see a Carnegie Hall concert. My mother had other plans though, an ulterior motive for this Big Apple sojourn, and gave up Carnegie Hall for a chance to see a new young heart throb, a skinny crooner with dreamy blue eyes in one of his earliest performances … Frank Sinatra. It was 1942.
For nearly 60 years, old blues eyes — Frank Sinatra — was larger than life, a singer, movie star, and worldwide legend with 1300 songs to his credit. The Roxy Regional Theater captures a collection of the very best in their current production of My Way: A Musical Tribute to Frank Sinatra.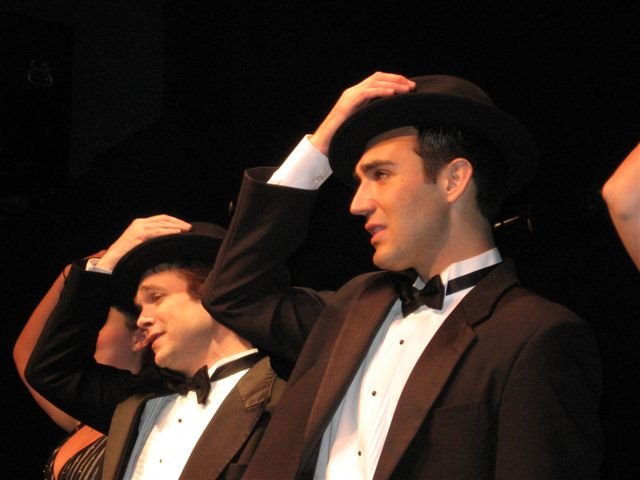 Even before the show began the mood was set with soft music from yesterday that hasn't lost is charm — hummable, dance-able music that continues to endure. As the combo took their seats and began to play, as the singers stepped back in time, they carried their audience with them all the way. «Read the rest of this article»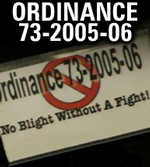 Patsy Sharpe, a downtown property owner, submitted the following letter to Clarksville Online, with the following note: "The Leaf Chronicle is refusing to print letters to editor on the blight issue. They always give different reasons but none are truthfully a good one. I am sending my letter to [Clarksville Online] in hope that you will print what a biased newspaper like the Leaf, won't. " The following is Ms. Sharpe's letter:
I would like to address the upcoming talks on the controversial Redevelopment Plan that blights the entire downtown. The idea of involving the residents and business owners in the affected area is, of course, the only right thing to do. They should have been notified from the beginning and one can only speculate as to why they were excluded, referring to the Emerald Hill and Dog Hill residents. The Brandon Hills and Red River residents were notified. If proper procedure is followed, there will be a series of meetings and discussions on how redevelopment should proceed and all should have a voice in the matter. For the record, we are not anti-redevelopment. We just want redevelopment that is fair and beneficial to the residents as well as to the city. «Read the rest of this article»
Not far from Clarksville are walking trails in parks and at nearby Land Between the Lakes. A great way to walk them is with the Tennessee Trails Association.
This last weekend our local Tennessee Trails Association did a litter pickup and debris removal in Rotary Park and on a north-south trail at Land Between the Lakes (LBL). The group removed several bag fulls of trash and moved many wind blown tree limbs off the trail. They left tired, but with a feeling of pride in knowing that they had left the trails in better shape than they found it.
James Arthur Neblett participated in the litter pickup hike this year and last year. He said that it beat staying inside no matter what the weather was, and he is anxious to participate in this endeavor in the future.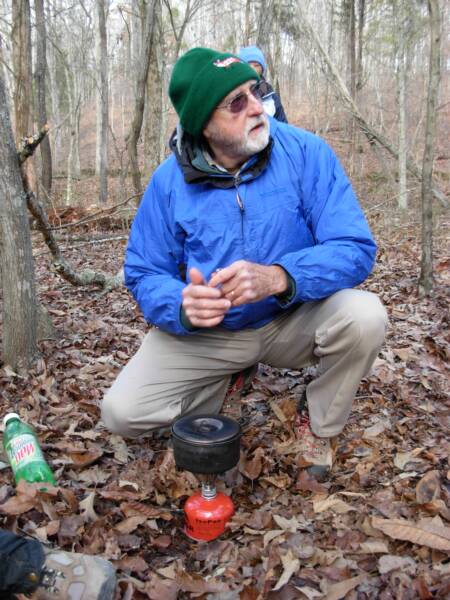 One of the local Tennessee Trails members is J. R. Tate (at left). Among other trails, he has walked the Appalachian Trail four times. It took him six months each time. During his 2006 walk, we got a glimpse of his adventure through diary passages he sent to the Leaf Chronicle. When I asked him his secret to success he said, "Hiking is a matter of moving your right foot, then your left foot. Repeat until you get from where you started to where you end up". He found that the mental part of hiking is a lot more important than the physical part. He kept himself going sometimes on the simple thought of a warm sleeping bag or a great meal ahead. «Read the rest of this article»