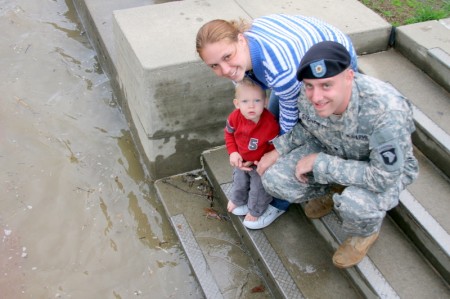 Tim and Ana introducing their 15 month old son Johnny to the rising river.
With the Red River having overflowed it's banks it was the perfect opportunity for a little backyard kayaking. Randall Boen (front) and Ted Kitterman (behind) make it look easy. At the same time they are practicing safe watersports by wearing their floation devices.
About Bill Larson
Bill Larson is  is politically and socially active in the community. Bill is a member of the Friends of Dunbar Cave.

You can reach him via telephone at 931-249-0043 or via the email address below.
Sections
News
Topics
Ana, Courtesy boat dock, Evey-T, Flood, High water, Johnny, McGregor Park, Photo gallery, Tim