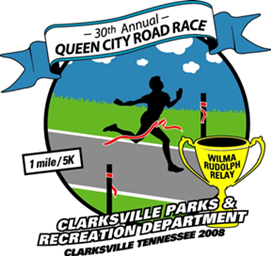 The 30th annual Queen City Road Race was held Sunday. More than 1000 racers took part, with hundreds of spectators watching the event. The annual race featured racing opportunities for runners of all ages. The schedule included a 5K Race for individual runners, a 5K Wheelchair Cycle Race, a 1-Mile Wheelchair Race, a 1-Mile Walk and 1-Mile Fun Run. New events this year included the Wilma Rudolph 5K Relay and the Cumberland Bank & Trust Corporate Challenge.
The 5k individual race winners were Rodney Dycus age 40 for the men, and Meredith Thompson age 30 for the women.
The 1st Annual Wilma Rudolph 5K Relay Race was also held at this year's event. Businesses, non-profit organizations, school teams, and church groups participated by forming 4-person running teams to race for the very first Wilma Rudolph Gold Cup! The winning team was the Meat Puppets with Zeek Woojubkomie, 19; Justin Williams, 20; Rex Greenwood, 21; and Matt Jones, 21 racing. Matt Jones was also the first runner to cross the finish line.
Winners
5k Relay Race:
Overall
1-10:
11-13:
14-19:
Female: Ryen Rae, 15

Male: James Anderson, 17
20-29:
Female: Ulrika Forsgren, 23

Male age: Ben Smitherman, 25
30-39:
40-49:
Female: Mary Stevens, 45

Male: Bill Boyd, 41
50-54:
55-59:
60+:
Photo Gallery
Below are various photos from the 5k Races.
Sections
Events, News, Sports

Topics
Fitness, Queen City Road Race, Racing, Running