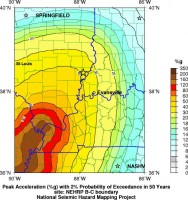 No, you're not going crazy. There was an earthquake felt in middle Tennessee during the wee hours of the morning. An earthquake hit the Midwest today, originating 135 miles southeast of Springfield, Illinois, and merely 38 miles from Evansville, IN. At magnitude 5.4, the epicenter of the quake was 6 miles from West Salem, IL.
I was watching StarGate SG-1 when the floor shook. And it wasn't the surround sound. I stood up as vibrations rattled the front door of the house, coming from that direction. The cats all freaked out and stared in the same unnerving direction I was staring in.
The vibrations grew, and the tremors then dissipated. By coincidence, I heard sirens going off down the road not long afterwards as I listened to the news, and checked online for any reports. Early reports to the United States Geological Survey spilled in from the IL/IN area. «Read the rest of this article»
Rivers & Spires, an award-winning festival with live music, activities for the kids, and great food, returns to Clarksville for its fifth season. Rivers & Spires is staged on every street corner in historic downtown Clarksville and at Riverfront Park.
Rivers & Spires Festival orginated in 2003 as a tribute to the soldiers of the 101st Airborne Division who, at the time, were returning from a deployment. Since then, it has continued to honor the community's heritage by paying special tribute to Fort Campbell soldiers, many of whom are are currently deployed overseas, and their families.
The 2008 event opened with a re-igniting of the eternal flame on Public Square. Before the ceremony, I was reassured by City Councilor Geno Grubs that the flame, which has been off more than on over the past year, had been snuffed by a mechnical problem, and not by a city trying to save money or "the wind blowing out the flame." «Read the rest of this article»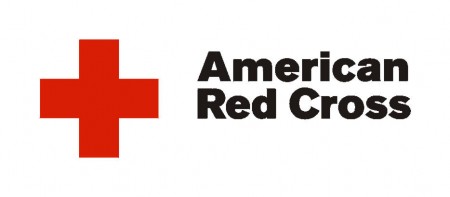 The American Red Cross responds to fires; they are not usually the victim of a fire.
That changed early this morning when the American Red Cross Emergency Response Vehicle[ERV] was set afire by an arsonist outside their Riverside Drive office. The vehicle and its contents were destroyed. Just yesterday, the ERV was "packed tight" with emergency supplies and equipment for a first aid station at the Rivers and Spires festival, which begins today.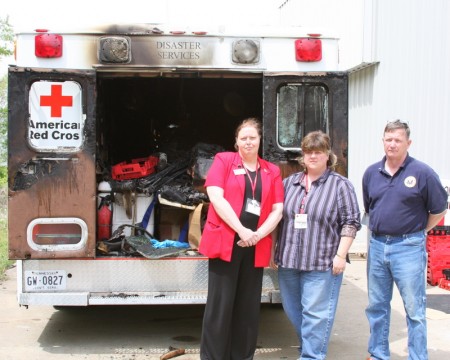 From left, ARC Executive Director Linda McCoy,Health and safety Director Patricia Brown, and Emergency Services Director Cecil Stout stand before the ERV that was completely destroyed by fire (arson) this morning.
Cecil Stout, Director of Emergency Services, said "our equipment was inside, loaded for [the festival], including a $1500 trauma kit." Stout said the Red Cross is now seeking a replacement vehicle and has been gathering prices. «Read the rest of this article»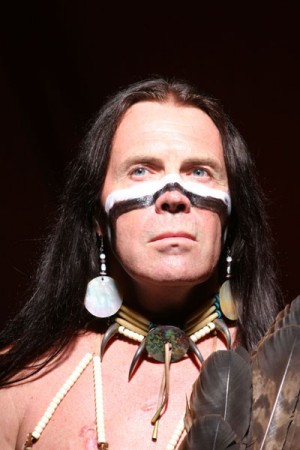 I learned through meditation that when I imagine a line between myself and the center of the earth, my body feels safe and can release old emotions and energy (like worry or seriousness) that I'm done with. When I am "grounded", or imagining that connection, people also feel very comfortable around me. When I am not grounded, I am an easier target for someone to pick on me, because I'm more like a bird with no feet on the ground:I look vulnerable and unprotected. I've noticed that when I am practicing being grounded, people flock to me. They subconsciously are attracted to the idea of their bodies and spirit feeling safer and connected to the earth also.

J.J. Kent, the most grounded person I have ever met, teaches Lakota spiritual laws based on this connection to the Earth. J. J. uses his good voice to do public speaking and flute recordings, and on Saturday, April 19th, he will be featured speaking at Rivers and Spires in downtown Clarksville around noon. He will also speak to the Unitarian Universalist Fellowship in Clarksville on May 11, 2008. «Read the rest of this article»
Tim Catchim has started a green business in Clarksville – curbside recycling, otherwise known as Recycle Clarkville. I signed up as a customer and he's picking up my recycables every week for $10 a month. It is great that I don't have to load the stuff in my car and drive to the recycling center. Another advantage is more room in my garage.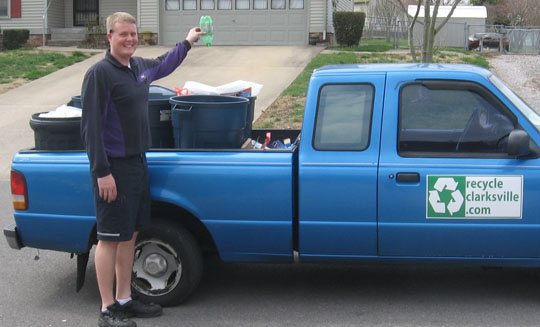 Imagine, for a moment, if you had to keep all your trash. Those plastic trash bags would pile up in your yard or spare room week after week, month after month, year after year. You'd also have to pack and take that garbage with you when you move to another residence. When we roll our big plastic container to the end of the street every week, we don't usually see or think about that trash any more. We can go visit most of that same trash we've been throwing out for years at the Bi-County landfill off Dover Road. «Read the rest of this article»
If you felt the earth shake, rattle and roll this morning, you were NOT dreaming.
At approximately 4:36 a.m this morning, a 5.4 magnitude earthquake located near Gards Point Illinois rattled buildings and caused minor damage. The quake was felt as far as the Chicago area, and even into Arkansas. The earthquake was easily felt in Clarksville, Tennessee as it was reported by multiple callers to 911, and by police officers over the public safety radio system.The quake occurred on a fault line adjacent to the New Madrid fault.
The New Madrid has been quiet for over a century, but is notorious for its devastating clusters of quakes in 1811-1812.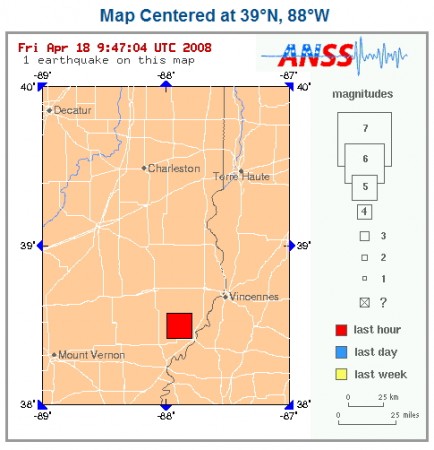 Here's some information on the quake from the USGS Web site. «Read the rest of this article»
Today, another hearing ended in turmoil when a 47-year-old Sudanese man, Ibrahim al-Qosi, refused representation and declared he would boycott the military commission, before which he is charged with conspiracy and providing material support to terrorism. Al-Qosi told the judge, Air Force Col. Nancy Paul, that he has been waiting for this day for four years, that he does not recognize the lawfulness of the military commission, and that he "leaves the field for you to play as you wish."
Today, the fragile and flawed system of military commissions produced a new episode in its Kafkaesque system of "justice" series. As in the famous Franz Kafka piece "Before the Law," Al-Qosi has waited "to gain entry into the law" only to discover that this unjust system was created for him (and the others declared "unlawful alien enemy combatants" by the Bush administration). In the Kafka story, the man who waits at the door until he is about to die asks the doorkeeper why, even though everyone seeks the law, no one else has come in all the years. To this question the doorkeeper replies: "No one else can gain entry, since this entrance was assigned only to you. I'm going now to close it." «Read the rest of this article»