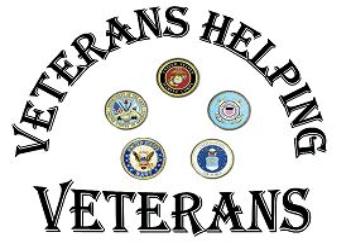 The Wingmen Motorcycle Club will sponsor a Poker Run On May 31 to benefit the Veterans Temporary Emergency Assistance Program, which provides financial assistance to active and retired servicemen and their dependents. Assistance is provided for basic needs including housing costs, food, utilities and medicine. VTEAP operates solely on donations and money raised through events such as this.
The run will be launched between noon and 2 p.m. from Buddies on the by-pass at Appleton's HD, with the run ending at 6 p.m. at the Wingman Motorcycle Clubhouse at 3437 Pembroke in Oak Grove, KY. Free hamburgers and hot dogs will be served at the clubhouse. Card games and prizes are also offered. For more information, call Robert Warren at 905-0366.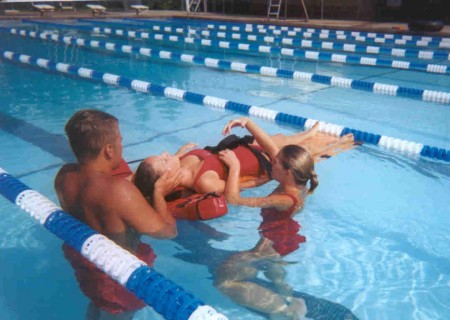 Summer is finally here and that means it's time for pools to open. Clarksville's pools open June 1. The Parks and Recreation office will be open May 31 from 10:00 a.m. to 2:00 p.m. and June 1 from 1:00 p.m. to 3:00 p.m. for pool pass sales only. The office is also open regular hours weekdays from 8:00 a.m. to 4:30 p.m. Crow and Kleeman Community Centers also sell pool passes. Please check with these community centers for a schedule.
Summer Youth Program gyms open on June 9 for six weeks of free summer fun for children ages 6-16. Locations include: Burt-Cobb Community Center, Crow Community Center, Kleeman Community Center, Barksdale, But, Glenellen, Hazelwood, Liberty, Minglewood, and St. Bethlehem Elementary Schools, Summit Heights and Caldwell Lane Housing Authority sites, and New Providence Outreach Center. Sites are open Monday through Friday 9 a.m. to 3 p.m. except Caldwell Lane which is open 10 a.m. to 2 p.m. «Read the rest of this article»
What was supposed to be the first sponsorship of its kind for Woman vVeterans of Tennessee was doused by downpours at the Fort Donelson National Battlefield and Cemetery on Monday. The rain failed to dampen the spirits of the servicewomen, who simply opened up dozens of red, white and blue umbrellas and kept on smiling.
"We'll be back next year," they promised.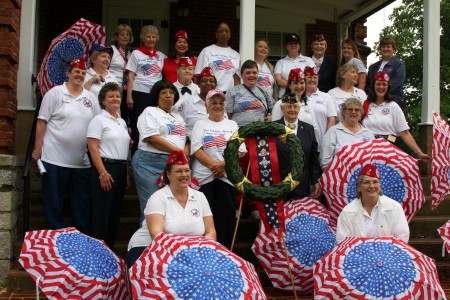 It was to have the first time a women's group hosted the event, in this case reflecting the combined efforts of the Women Veteran's of America Chapter 20, the Women Veterans Network and VA Tennessee Valley Healthcare System. The women veterans reflect every branch of the armed forces except the Coast Guard. «Read the rest of this article»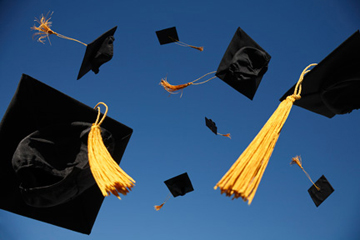 How about a little respect, please! A show of good manners.
For the second time in as many years, I attended a local graduation ceremony for a grandchild. It's been an eye opening experience on the issue of pride, respect, and just plain and obviously old-fashioned etiquette. The parental pride was evident. More so was the absence of respect and good manners towards other parents and the graduates they love.
Okay, maybe I am out of touch. But when a student about to graduate dons dress pants, a white shirt, a tie, or a new dress and shiny high heeled sandals, when they don the robes and the caps with tassels, when they walk proudly in to the strains of Pomp and Circumstance, it's a powerful moment, their moment. «Read the rest of this article»
Vietnam Vets honor POW-MIAs
Rep. Joe Pitts addresses constituency
"Eternal" Flame unlit on Memorial Day
One by one, as a bell tolled a single chime and the words "Absent, not forgotten" were spoken by people in the viewing stands, Vietnam veterans carried thirty-three empty chairs draped in the black and white POW-MIA logo, carrying the names of Tennessee soldiers still missing from the Vietnam War, to "center stage" and saluted.
To the side, another veteran lit a candle for each name called. Gery Ezell read the roster of the missing. Reverend Elijah Oliver gave the benediction for this vigil.
Dozens of Vietnam veterans and their families gathered in Public Square Sunday evening to honor their fallen comrades, Tennessee's 33 POWs and MIAs of the Vietnam War. The event was sponsored by Chapter 396 of the Vietnam Veteran's of America, who launched this annual service in 1989 when the fate of forty-three Tennessee soldier serving in Vietnam did not return. In the intervening years, 10 soldiers have been returned, the most recent in 2005. «Read the rest of this article»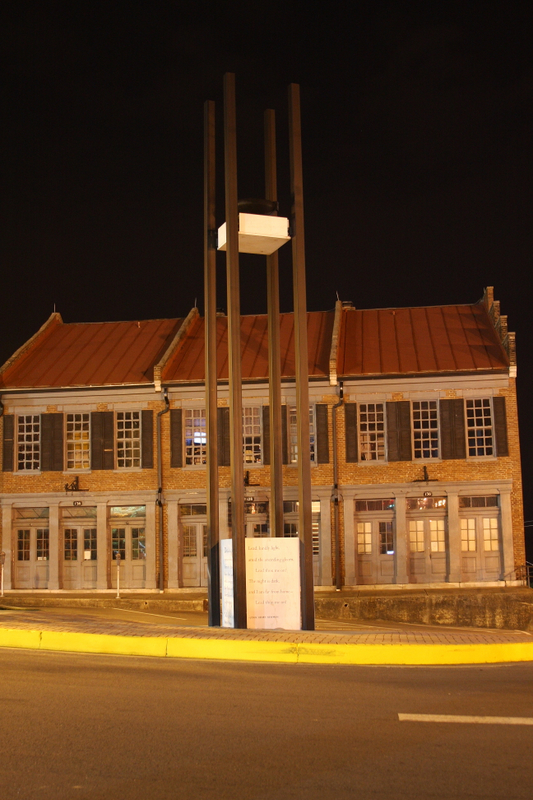 Lighting a flame is just too much to ask. Even during Memorial Day Weekend, the flame is out. Yet "We support the troops!" claims and stickers are everywhere. Who's foolin' who?
Yet another national observance dedicated to honoring the nation's debt to its military forces, past and present, is upon us. Flags are flapping in the wind. Boy Scout Troops are preparing to descend upon various cemeteries to place small flags at veterans graves. Politicians gear up to make patriotic oratory praising America's military forces and the noble sacrifices made by them and their families, past and present. Even the president has reminded us to remember the veterans as we celebrate this weekend. All of these annual gestures of reverence are expected and applauded
But there is an affront to all this staged posturing in our community. For quite some time now, Clarksville has been playing footloose and cheap with its symbolic gesture to military honor and sacrifice- the eternal flame on Public Square. The flame has been unlit for most of this year. Citizen inquiries have resulted in a myriad of replies, to include being told that, "Surely, the wind must have just blown it out!"
«Read the rest of this article»
A minimalist production of Tuesdays with Morrie opened this week at the Roxy Regional Theater with breathtaking performances by its two stars: Jay Doolittle and Joe Sonenshein. The finely woven connection between both men manifests itself as a tour-de-force performance of Broadway caliber.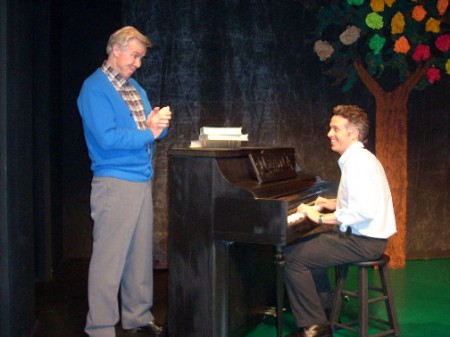 Morrie (Jay Doolittle at left) with Mitch (Joe Sonenshein) in the Roxy Regional theatre production of Mitch Albom's Tuesdays with Morrie.
Doolittle as the aged professor Morrie Schwartz and Sonenshein as student/author Mitch Albom loom larger than life even as they navigate the simplest truths of living, dying and what it means to love. The play is based on real-life Albom's memoir of the same title. This is adaptation of another medium at its finest and our actors capitalize on that. «Read the rest of this article»
Though summer is a month away, Memorial Day has become the traditional launch date for the summer season, with all the accompanying hype about barbecues, picnics, the end of school for many, the start of vacation season for many others.
And while all of that is true, we need to take the time to remember and honor the reason we have this holiday: our veterans and our soldiers on active duty.
War has littered America's historical landscape, beginning with the Revolutionary War that forged the democracy we live in. The Civil War bloodied our own soil in a way that World Wars I and II, Korea and Vietnam, did not, though those wars took an enormous toll on American soldiers and their families. There have been other battles along the way, inclduing the much more recent and controversial Gulf Wars I and II (a.k.a the Iraq war). «Read the rest of this article»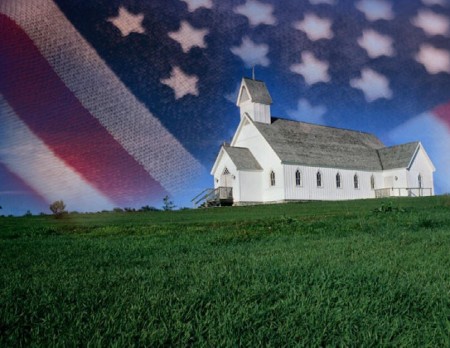 In this year with its presidential race, we continually seek information on the views of the candidates. We search for understanding of their positions.
The Iraq War, the environment, education, and taxes. It is also appropriate to look at their views on religion, especially at how it will affect their decisions is elected because religious views do influence political decisions. I still believe that a religious viewpoint is one reason behind America's invasion of Iraq. A personal understanding of eschotology contributed to the quagmire and the deaths of thousands of our soldiers and tens of thousands of Iraqi citizens.
Religion is an item discussed by the current crop of candidates on television, radio and in their speeches. We know where they go to church, how they interpret the Bible, what they pray for and other spiritual matters. It's a major item to manipulate a portion of our religious society called the evangelicals (whom I think should be identified as fundamentalists). «Read the rest of this article»
Guests regaled as local couple's anniversary and birthday celebration advances to new level
May 16th and 17th marked the fifth anniversary of Family Properties' Black Tie Dinner Dance. The annual combination celebration highlights the wedding anniversary of Doris and James Witherspoon and James' birthday. What distinguishes this celebration is that the feted couple actually produce the annual weekend-long celebration, staging the affair and entertainment. The two-day gala features two sumptuous sit-down dinners and live entertainment provided by The Blues Doctor- "Dr. J. W. Feelgood" and the BCOL (Better Choice Of Living) Band. «Read the rest of this article»