RENT: The Broadway Finale, is screening at Great Escape Cinema at 7 p.m., September 24, and at noon on the 27-28.
When the first televised ad for the movie version of Broadway's RENT cabled into our home a couple of years ago, my eldest granddaughter heard the strains of Seasons of Love and the verdict was in: a die hard fan was born and the film version hadn't yet been released. Yes, we saw RENT (the movie) together, several times, applauded, cried, let the music run through our minds on instant replay. Last summer that granddaughter, Brandi, accompanied Clarksville Online to the live production of RENT at T-PAC in Nashville. Clutching the programs and her newly acquired T-shirt with RENT splayed across the front, Brandi sat with us, mesmerized by this piece of Broadway that had fallen our backyard, so to speak.
https://www.youtube.com/watch?v=tDuHQm1WVhg «Read the rest of this article»
BREAKING NEWS: John McCain this afternoon announced he was suspending his campaign to focus on the economic crisis in America and has requested that the Sept. 26 debate be rescheduled.
President Bush to address nation at 8 p.m. CST.
McCain's decision is a complete about-face from his prior statements  that the United States economy is "fundamentally sound." This is John McCain's statement, released at 3 p.m. today.:
America this week faces an historic crisis in our financial system. We must pass legislation to address this crisis. If we do not, credit will dry up, with devastating consequences for our economy. People will no longer be able to buy homes and their life savings will be at stake. Businesses will not have enough money to pay their employees. If we do not act, ever corner of our country will be impacted. We cannot allow this to happen.
Last Friday, I laid out my proposal and I have since discussed my priorities and concerns with the bill the Administration has put forward. Senator Obama has expressed his priorities and concerns.This morning, I met with a group of economic advisers to talk about the proposal on the table and the steps that we should take going forward.I have also spoken with members of Congress to hear their perspective. «Read the rest of this article»
In celebration of Banned Books Week, Clarksville Online will offer our readers articles, and Best Books lists — yes, lists — of the best in literature for both adults and children.  Have you read a banned Book? We hope so!
Some time ago, three generations of my family, myself included, some of us costumed to honor favored characters, stormed the bookstores for the midnight release of the final Harry Potter novel, Harry Potter and The Deathly Hallows. My granddaughter, in her Harry Potter Sorting Hat, and a friend stood guard at the shop's storeroom door hoping for glimpse of,  … Oh my! Can it be? A book! Not a rock star. Not a movie idol. A BOOK.
Granted it was a big book. A special book. It was a book with all the answers to all the questions derived from the first six books in the series. Thus, somewhere around 2 a.m., five copies of the pre-ordered book in our house — everyone wanted "my own" copy, and we could not all read the same book at the same time.
J.K. Rowling, with her first scrawled story, got an entire generation of children to read books. Not read…devour, with an insatiable hunger for more. «Read the rest of this article»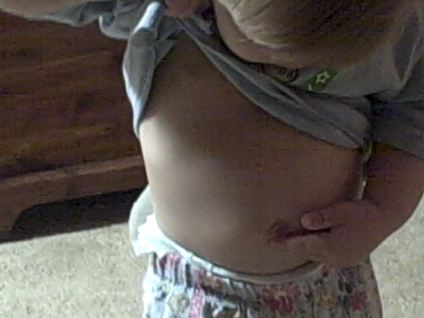 I am finding recently that a lot of opinions are being tossed about. With this being an Election year it seems everyone has something to say. Everyone thinks what they have to say is the truth. Everyone thinks what they have to say is important. So I say to everyone, you are right.
We all have a constitutional right to say what is on our minds. Our country was founded on that belief. However, more and more it seems that what someone has to say is not always welcome. In some cases even its forbidden, or even chastised. Who are we to slap a hand or remove a blog, or delete a comment that someone has posted just because its what they perceive to be as right, whether we agree with it or not!
It's a delicate time we are living in. You must be careful what you say to someone. You must always be politically correct. You must always be conscious of someone's feelings. «Read the rest of this article»
Cindy Pitts, motivational speaker, leads list of esteemed speakers for Women Suffrage 88th Anniversary Commemoration
Clarksville Women for Obama will mark the 88th anniversary of the passage of the 19th Amendment, which gave American women the right to vote , with a commemoration program on Friday, September 26, at 7 PM at the Montgomery County Democratic Party headquarters, 534 Madison Street. The program features a roster of local women speakers.
Cindy Pitts, motivational speaker and wife of State Representative Joe Pitts, will headline the anniversary commemoration. Other esteemed speakers joining this event are LaVerne Walker, Equal Opportunity Activist and Elizabeth Adamski of H.O.P.E. (Hispanic Organization for Progress and Education).
The commemoration anniversary is open to the public. This event is the forerunner to the University of Mississippi Presidential Debate Watch Party. For more information, call 931-552-9076 or visit the website at: <www.ClarksvilleForObama.com> Refreshments will be served. Volunteer food and soft drink donations will be appreciated.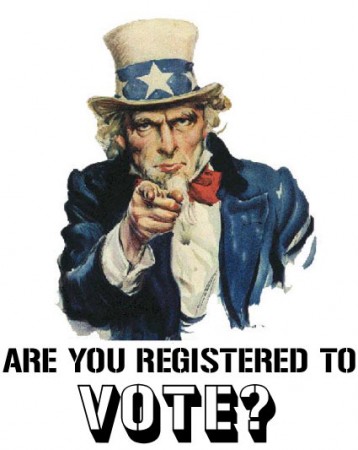 On Friday, September 26, hundreds of Tennessee NAACP unit presidents and members, along with the community will hold a "Register to Vote for Power, Justice & Freedom Rally" Friday, September 26, at 2:00 p.m. on the Austin Peay University Campus at  Pettus Park, across from the APSU Dunn Center.
Tennessee NAACP members will be in Clarksville for their 62nd Annual State Conference, to be held at the Riverview Inn Hotel at 501 College Street in Clarksville. The NAACP is one of the leading organizations in this country and continues to fight for the rights of people in this country.
With only one week to go before the voter registration deadline on October 6, the NAACP wants to mobilize its members and the community to register, new voters before the deadline, and begin their "Get Out The Vote" Campaign. «Read the rest of this article»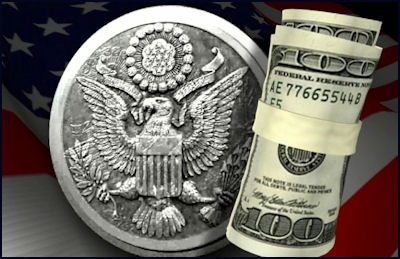 You are being told that we must pony up for Wall Street's mistakes over the past 20 years. You are being told that if you do not it will only cost you more in the long run. You are being told that if you do not do so, the world as we know it will cease to exist. That part, at least, is correct.
For the past twenty years, beginning with the Reagan administration, economic war has been waged on you, the middle class. The champions of the "free market" demanded that all fetters, all regulations, be removed from the market. It was claimed that regulations were bad, that they prevented the market from operating "efficiently", that the "freer" the market, the more we would all benefit. «Read the rest of this article»
With two presidential debates being staged in the South, southern universities are being given unprecedented national exposure. The October 7 Presidential Debate will mark Belmont University and Tennessee's elevation onto the presidential election stage.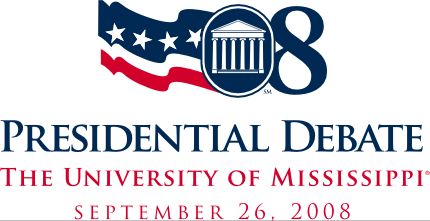 The evening of September 26 will be a busy one with two important political events in Montgomery County. The Women For Obama 19th Amendment Anniversary House Party will be followed by the 1st Presidential Debate Watch Party.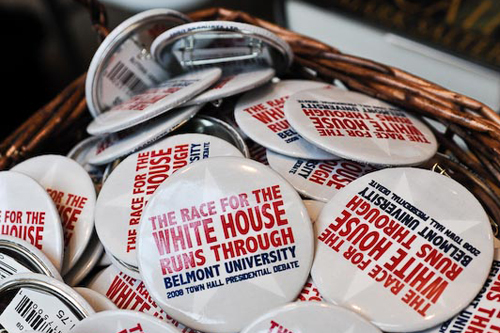 This year's Presidential Debate at the University of Mississippi marks an historic development in U.S. presidential elections political history. This is the first time for the staging of a presidential debate in the state of Mississippi.
Senator Barack Obama and Senator John McCain will appear live to debate issues of concern to the American public in Ole Miss' Gertrude C. Ford Center in Oxford, Mississippi. The debate will be moderated by Jim Lehrer, executive editor and anchor of The NewsHour on PBS. This debate will focus on foreign policy and national security. «Read the rest of this article»
Northampton, MA (9.23.08) ~~ The plan proposed by President Bush and Secretary Paulson for a $700 billion bailout of Wall Street is difficult for most people to comprehend. National Priorities Project, a non-partisan organization that offers research and analysis of federal spending priorities, is offering an analysis of what $700 billion means to taxpayers.
"It is extremely difficult for most of us to get our minds around what this extraordinary amount of money means.  We hear every day about spending cuts to infrastructure and social services. Now the current Administration is proposing to spend more than what is currently allocated for the U.S. War in Iraq on this Wall Street bailout.  It is critically important that we urge our elected representatives to take a close and careful look at the trade offs involved in their decisions."
~~ Jo Comerford, Executive Director of National Priorities Project. «Read the rest of this article»