Winter Weather Advisory In Effect ... [Click here for more information]

The Clarksville Fox Women's Semi-Pro Football (2-2) team will host Tier II conference foe, Tennessee Valley Tigers (3-2) of Huntsville, Alabama. This is the first of a two-game home stand for the Fox with games on May 23rd against the Tigers and May 30th versus the Chattanooga Locomotion (4-1). The Fox is coming off a tough loss against Tier I opponent Kansas City Tribe and is looking to strengthen their record and playoff seeding with victories at home against the Tier II Tigers and Locomotion. All Fox home games are held at Northwest High School in Clarksville with kickoff at 7pm.
Tickets at the gate are $10 for general admission and free for children 10 and under. In order to honor those serving our country, all military personnel and their dependents with a valid identification card will be admitted for $5 at each home game.  In addition students with valid identification will receive half off admission as well.  Pre-sale tickets are available for $5. Please see www.theclarksvillefox.com for contact information.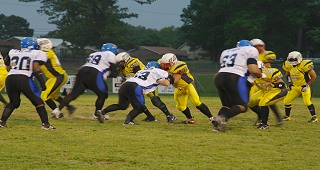 The Clarksville Fox, AM WKFN 540, Top Dog Stitches and Screens, and Hooters brings you "The Fox Den" coaches post-game radio broadcast, held Mondays following games at 7pm (Live) at Hooters of Clarksville (Riverside Drive). In addition to the radio show, Fox coaches, players, and staff will be at Hooters for the broadcast.
Pre-game festivities include tailgating and music. For the May 23rd game, the national anthem will be performed by Mason Douglas and half time entertainment will be provided by Kevin Riner.  The honorary coin toss will be done by Jessie Knowles, a young man fighting diligently against brain cancer.
Everyone coming in the gate will be given a ticket for a donation. During the game, we will have random drawings for gifts & prizes. Gifts & prizes will include Fox T-Shirts, gifts from our sponsors, and autographed memorabilia from the Nashville Predators.
For more information about The Clarksville Fox or the Independent Women's Football League, visit them on the web at www.theclarksvillefox.com or www.iwflsports.com or email Rob Brown at CoachoftheFox@AOL.com or call cell 931-320-2976.
Sections
Sports
Topics
Clarksville Fox, Jessie Knowles, Kevin Riner, Military Discount, Nashville Predators, Raffle, Riner Music, Tennessee Valley Tigers