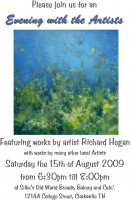 When you talk to people about the arts in Clarksville, Montgomery County Tennessee you will frequently find Silke Tyler's name mentioned. Who is she? She is the proprietor of Silke's Old World Breads located at 1214A College Street, she is also the hostess of the wonderful bi-monthly "Evening with the Artists" art exhibition. The next show will be held on Saturday August 15th from 6:30pm till 8:00pm. There is no cost for admission, and Silke provides her delicious food as refreshments.
The "Evening with the Artists" event brings together Silke's great food, outstanding friends and acquaintances, and some of the finest art and artists in our community. This month the featured artist will be Richard Hogan. Previous featured artists included Jim Hancock and his Mediterranean reflections, the alternative process images of Heidi Hopkins and Winni Bagley, and the expert photography of Alan Goldstein, among many others; which unfortunately are too numerous to be able to mention all of them here.
One cannot be a true connoisseur of art in our community, without attending Silke's art events. We hope that you will attend! «Read the rest of this article»
Related Images: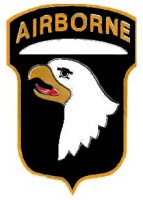 Fort Campbell – The 101st Airborne Division (Air Assault) began "Week of the Eagles" with a division run at 6:30 a.m. today. More than 18,000 Soldiers from the 101st and additional units stationed at Fort Campbell ran together in a mass formation stretching around a more than four-mile loop laid out for the event.
Maj. Gen. John F. Campbell, division commander, and Command Sgt. Maj. Vince Camacho, division command sergeant major, led the run from the division headquarters. This marks Campbell's first division run since taking command on July 31. «Read the rest of this article»
Nursing Home Cited For Violations

Nashville – Tennessee Department of Health Commissioner Susan R. Cooper, MSN, RN, has suspended new admissions of residents to Life Care Center of Chattanooga nursing home effective August 11, 2009, and imposed a one-time state civil monetary penalty of $7,500. A federal civil penalty has been imposed at $6,300 a day.
Additionally, the Centers for Medicare and Medicaid Services has notified the facility that termination of its Medicare provider agreement is effective August 14, 2009. The facility has 30 days to assist with the transfer or relocation of its residents.  A special monitor has been appointed to ensure the health, safety and welfare of residents of the facility during this transition.
«Read the rest of this article»

With social networking media becoming the norm in higher education, Austin Peay State University has the eighth fastest-growing Facebook fan page in the nation, according to data compiled by a consultant company.
In addition, APSU's Facebook page is the 25th fastest-growing of all universities – a total of 1,035 – that were noted in the data. «Read the rest of this article»
Related Images:
Will serve on Energy and Environment Committee
Nashville – Sen. Tim Barnes has been selected by Lt. Governor Ron Ramsey to serve on the Energy and Environment Committee at the Southern Legislative Conference that will be held in Winston-Salem, North Carolina, from August 15 to 19.
"I am honored to be selected, and I look forward to attending the Conference," Sen. Barnes said. "It will be interesting to compare how other states are incorporating green technology into their infrastructure and encouraging businesses to do so as well. I believe it is important for Tennessee to foster good relations with other states and to learn from their initiatives." «Read the rest of this article»
Nashville –

The Tennessee Department of Health announces that the suspension of admissions at Life Care Center of Athens has been lifted effective August 10, 2009. The facility is a 128-bed licensed nursing home located at 1234 Frye Street in Athens, TN.
The Department confirmed the facility has returned to substantial compliance for state licensing purposes. The federal conditions of participation that led to the immediate jeopardy citations have been corrected as stated in the facility's allegations of compliance, which was approved by federal and state authorities. «Read the rest of this article»