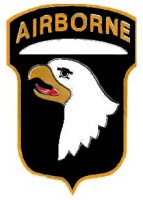 101st Airborne Division (Air Assault) soldiers are tough by nature, that is why I was so excited about being able to attend the Toughest Air Assault Soldier Competition as a part of the 2009 Week of the Eagles at Fort Campbell, KY. It gave me a chance to see what tough really is.
The competition started at 0400 at the Sabalauski Air Assault School, it was originally scheduled to begin at 0800, but had been moved forward due to the extreme heat during the day.
The first event was a Ruck march where the soldier puts on load bearing equipment, a 30-pound rucksack, helmet, gets an M-16 rifle, then moves to the starting point for the 12-mile road march. While the starting point was lighted the rest of the march was in darkness, with a blue light marking the turn around point. From the school, the turn around point was 3 miles away. They had to do this route twice. From the school to the turn around point, back to the school, back to the turn around point, and back to the school to finish. They had three hours to complete this portion of the competition. «Read the rest of this article»
Brassai, Man Ray, Andre Kertész, Eugène Atget, Ilse Bing, Germaine Krull Among Photographers Exploring Juncture of Surrealist Avant-Garde and Popular Culture of 20s and 30s
Nashville – The Frist Center for the Visual Arts will present Twilight Visions: Surrealism, Photography, and Paris, opening Sept. 10, 2009, in the Upper-Level Galleries. The show, which offers a unique perspective on Surrealism by examining the intersection of documentary photography, manipulated photography and film, will be on exhibition through Jan. 3, 2010, when it will travel to the International Center of Photography in New York followed by the Telfair Museum of Art in Savannah, Ga.
«Read the rest of this article»

NASHVILLE – The Tennessee Wildlife Resources Agency (TWRA) is seeking fields to lease for the upcoming 2009 dove season. The first phase of dove season opens at noon on Tuesday, Sept. 1.
Landowners who have interest in leasing their fields should contact the TWRA regional office in their area so that a TWRA official can check their property for a potential field lease. TWRA personnel annually search the countryside to seek out fields that have large numbers of doves for public hunting.
«Read the rest of this article»
Related Images:
WNYC's Radiolab presents: Moments by Will Hoffman.

After hearing their show about moments of death, filmmaker Will Hoffman went out in search of moments of life. What follows is what he found.The film is a celebration of life that was inspired by David Eagleman's book, Sum.
«Read the rest of this article»