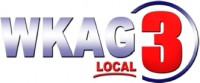 [1]Approximately three weeks ago, Charter Communications removed WKAG TV from its cable lineup in Clarksville, Tennessee, after 17 years.
WKAG was the only station on the lineup that has consistently covered events in the Clarksville market since the mid-90's, and included the coverage in newscasts, sports coverage, weather, public affairs and the all important information and updates that flow daily from Fort Campbell.
Many reasons have been given for this drop, with the primary one being a signal strength issue from our transmitter once Charter decided to drop the fiber optic feed that they had provided to get the signal for over ten years.
WKAG does not dispute the signal issue question, which we began to alleviate the moment we first heard about channel loss possibility. We now have a new, solid state transmitter replacing our original tube style transmitter from the 1980's, we are broadcasting stronger and with a more consistent signal than ever before.
WKAG has qualified for cable carriage in Clarksville since the Cable Television Act of 1992, and continues to do so.
We contend that to the date of this press release, Charter has NOT conducted proper signal tests as required by the Federal Communications Commission.
Cable television operators who are testing signal strength for carriage for qualified Class A Low Power television stations are expected by government regulations to do their testing at the same height location on their head end tower where they would receive qualifying full power television stations. IE.. signals for cable carriage MUST be tested on Charter's Tower where they receive signals for qualifying Nashville stations.
Interviews with four separate cable operators (Not Charter, and not located in Clarksville) found that all of these operators get their full power signals at a height between 130 and 150 feet up on their head end towers. Interviews with former Charter employees verify that they too receive their full power signals at a similar height.
Charter supplied WKAG with documentation that they had tested our signal from the back of a bucket truck. Various figures on the documentation place the test height at somewhere between 30 and 40 feet.
WKAG contends that the testing done on our signal is a full 100 feet BELOW the accepted height that is required by FCC rules.
Since day one, Charter has said that they want to live by FCC rules and regulations and that was the reason for pulling the WKAG fiber feed, even though the FCC has NO regulations concerning the use of a fiber feed for signal delivery.
On Thursday, November 5, WKAG did our own signal test for the Clarksville market. Although we don't have the access to the tower height that Charter has available, we took a two foot antenna, some coaxial cable and a monitor to downtown Clarksville, went to the top of a building there and did our own test.
Using this makeshift receive equipment and about 30 minutes of time, we were able to receive a signal downtown in Clarksville.
This video shows the procedure of us testing the signal, Charter's original paperwork showing their incorrect test methods and a sample of the signal we were able to get with this simple setup.
The signal isn't perfect, but it shows that proper signal strength can be accomplished. Our measurements were taken:
From a distance FARTHER from our tower than Charter's head end would be
From a height estimated to be 60 to 70 feet LOWER than where Charter would do testing.
Using a simple two foot antenna and basically pointing the antenna toward Hopkinsville. No fine tuning on the signal and certainly not using anything other than the simplest of receive equipment.
WKAG contends that this video will show even the most pessimistic Charter customer that signal strength is not an issue here. It should further show that given the proper signal testing, with the proper height and equipment, that there is no reason why the only television station to consistently provide local programming to Clarksville since 1992 shouldn't be returned to Charter's Cable Lineup immediately.
WKAG continues to be seen in over 30 cable markets in the surrounding area, and is available alternatively in Clarksville by CDE Lightband.
Take action
Contact Charter Communications today and demand that WKAG be reinstated to their lineup!
Call Charter in Clarksville today at 931-472-0128.  Email [2] or call Tony Fox Charter's Director of Operations at 931-320-0413.
Drop by Charter's offices at 1850 Business Park Drive, Suite 101.
WKAG is still available via CDE Lightband.  Call 931-648-8151 to order.