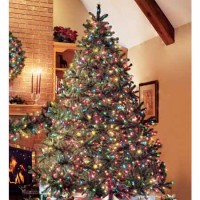 It seemed such a good idea at the time—buying a 12-feet-tall Christmas tree with all the lights already in place. After all, if we kept it for the next 20 years, we could justify the monster price because we'd never have to buy another one, right?
Not on your rum-pa-pum-pum!
I can blame my husband for this decision but it wouldn't be totally fair. He likes big stuff. When we moved into a house with a cathedral ceiling in the family room, he naturally thought we should fill it up with the biggest Christmas tree ever. Our old house in Charlottesville, Virginia had a small living room with an eight-feet-high ceiling, so we felt like the sky had opened up when we moved to our new home. Since I usually agree with him on most things, I could see having a monster Christmas tree as possibly being a good thing. So we bought the Giant Tree.
That was before my husband broke his ankle.
What we hadn't planned on was the weight of the top section of the tree. Only the Jolly Green Giant or King Kong could lift that tree topper. You have to stand on the top of an eight-feet-tall ladder and hold out both arms at full length to get it into the hole in the center of the tree. That one section weighs more than I do. I'm no physicist but I do understand that something held at arm's length takes a great deal more strength to lift that something held close to your body.
When Bill broke his ankle, he not only lost the ability to climb a ladder but the great upper body strength he had previously had that allowed him to pick up four-hundred pound pieces of marble, alabaster and soapstone to carve his sculpture. Since he was in a wheelchair for more than eight months following surgery on his ankle, he wasn't able to keep up his previous exercise schedule.
So much for his scooping the top of the tree into place!
We finally hired a couple of guys to come over and get the tree up. Then I managed with help from some family members to get the tree decorated. At that point it appeared that the burgundy silk poinsettias, golden metal balls, golden branches of various leaves, and the white silk hydrangeas would make such a spectacular display that we would be dazzled for the entire holiday season.
And we were.
Then January came and we still had the tree up. February, March, April rolled by and it was still dominating our family room. Everyone who stopped by to see us would immediately comment on the Biggest Christmas Tree they'd ever seen.
When Memorial Day was on the horizon, we decided we really must do something about the Christmas decorations. We changed the theme to red, white and blue, added flags and patriotic garlands and celebrated the Birth of Our Country.
Our family members were surprised when they came over for the Memorial Day picnic. Everyone commented on what a good idea the Patriotism Tree was—and we enjoyed it through the Fourth of July.
Then school started and we had the fire the next weekend.
(Lightning had struck the whirlpool in our master bath of August 13, our house was filled with smoke, and we began dealing with insurance company representatives from the Underworld! Another story for another day.)
During the next few weeks of trying to get a bathroom replaced, our bedroom repainted, new carpet installed, everything cleaned of the smoke, we became extremely stressed. Perhaps it had something to do with having to speak to 26 representatives of our Friendly Insurance Company just to get approval to spend more than two nights in a motel and hearing the insurance adjuster proclaim that he could have everything fixed in two days. We recognized immediately that we were dealing with someone who had no inkling of what was involved in the damage to our home and had him banned from our property. (I am not making this up!!!)
At any rate, the wonderful Christmas tree that became a Flag Tree suddenly began to get on my nerves. Instead of seeing it as a beacon to come home to, it became an unhealthy trap of smoke and leftover fumes from the fire.
We discussed how we were going to get this tree out of the room and Somewhere Else—anywhere else! Various options came up in the conversation, few of which I care to repeat in print.
I removed the decorations and placed them in sealed containers. At last, my husband (whose ankle was now healing much better after 15 months of misery) and The Ladies (the angels who come to clean our house every other week) tipped over the tree. Each section was then placed in our already crammed-to-the-max garage. The next Saturday I loaded three of the four sections into the garden cart and transported them to the barely-able-to-get-another-thing-in-it shed. One section—the lovely top section—remained in the garage because it was the only way I could get the shed door shut. My back will never be the same, but the joy of not having to see The Tree every day was worth it!
It was now October and I began to feel a sigh of relief. I could once again feel the openness of the family room. I could see the individual chairs, tables and lamps and I could watch television without wondering if my recliner was going to recline into The Tree.
November arrived. The subject of the Christmas tree for this year came up.
"How about just putting up the top section, dear?" Bill asked.
"No way in Robertson County or anywhere else am I looking at that tree again for many years to come!"
So far, our plans included a small live tree to be placed on a covered wrought iron table somewhere in the family room so that our three-month-old golden retriever couldn't reach or mutilate it. No patriotic ornaments would be displayed. No reminders of smoke-filled rooms will be hinted at. No attempts to reach the ceiling would be considered.
The nightmare of The Giant Christmas Tree will someday only haunt my memory, and, "No, dear, we are not just putting it in the yard this year either—unless there's a 'FOR SALE—CHEAP' sign on it!"
In fact, if I never see the blasted thing again, I think it will be much, much too soon.
Post script: The giant tree was sold during a yard sale the following Spring to a woman who was so excited she could hardly contain herself as a friend and she crammed it into her vehicle. And I sang the "Hallelujah Chorus" for the rest of the day!
About Sue Freeman Culverhouse
Sue Freeman Culverhouse has been a freelance writer for the past 36 years. Beginning in 1976, she published magazines articles in Americana, Historic Preservation, American Horticulturist, Flower and Garden, The Albemarle Magazine, and many others. Sue is the winner of two Virginia Press Awards in writing.

She moved to Springfield, Tennessee in 2003 with her sculptor husband, Bill a retired attorney. Sue has one daughter,  Susan Leigh Miller who teaches poetry and creative writing at Rutgers University.

Sue teaches music and writing at Watauga Elementary School in Ridgetop, Tennessee to approximately 500 students in kindergarten through fifth grade. She also publishes a literary magazine each year; all work in the magazine is written and illustrated by the students.

Sue writes "Uncommon Sense," a column in the Robertson County Times, which also appears on Clarksville Online. She is the author of "Seven keys to a sucessful life", which is  available on amazon.com and pubishamerica.com; this is a self-help book for all ages.

Web Site: http://culverhouseart.com/
Email: cuverhouse@comcast.net
Sections
Commentary
Topics
Christmas, Christmas Tree