The Montgomery County Master Gardeners' are hosting their 4th annual "Beginning & Newcomer Gardening Short Course" beginning March 2 and ending March 23.  Classes meet Tuesday evenings from 6:30p.m. to 8:30 p.m., and are are held at the Madison Street Methodist Church in Clarksville. The cost for all four sessions is $40. You can register by calling the Montgomery County Extension office at 931-648-5725 or kkean@utk.edu.
Editor's Note: Thanks to Melinda Grimes for bringing this to our attention via our Facebook Fan page!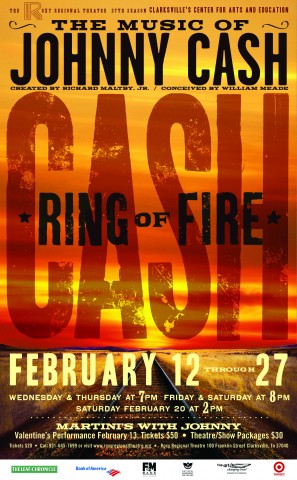 The music of the Man in Black is being celebrated during the month of February on the stage of the Roxy Regional Theatre in RING OF FIRE: The Music of Johnny Cash. Conceived by William Meade and created by Richard Maltby, Jr., this jukebox musical delves into the eternal themes of love and faith, struggle and success, rowdiness and redemption, home and family through the iconic songs of a man who transcends genres.
Featuring over three dozen of the music legend's songs, including "Folsom Prison Blues," "Thing Called Love," "Five Feet High and Rising," "Daddy Sang Bass," "Ring of Fire," "I Walk the Line," "I've Been Everywhere," "The Man in Black" and many more, RING OF FIRE honors Cash's life and music through the acting and vocal talents of professionals Melissa Dowty, Nathan Freeman, Brian Veith and Mindy Wedner.
«Read the rest of this article»
Hearts are Pumpers, Diamonds are Sparklers, Spades are diggers, Clubs are Puppytoes,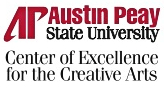 Squire Babcock came to Austin Peay State University last night to read from his debute novel the King of Gaheena, which was published by Mote Books in 2008.
Squire is an eloquent, with a voice that is as smooth as the Kentucky Bourbon his home state is famous for, His writing style is much the same. Having the opportunity to hear him read from his work last night set forever the voice of that internal narrator for this book that we all hear in our heads when we read.
"The novel is set in Louisville, Ky., and in a fictional town called Gaheena, Ark.," Babcock said. In the pre-event press release he laid out the course he would follow, "The novel is at times darkly dramatic and, I hope, funny at times, and I plan to read some dramatic scenes from both Kentucky and Arkansas and leaven them with some scenes that provide a little comic relief. In fact, that's mostly how I see life on this planet, as darkly dramatic narratives leavened (thank God) with occasional comic relief." «Read the rest of this article»