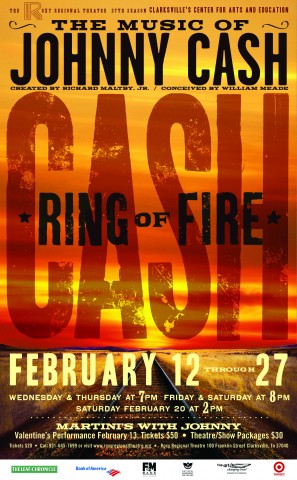 The music of the Man in Black is being celebrated during the month of February on the stage of the Roxy Regional Theatre in RING OF FIRE: The Music of Johnny Cash. Conceived by William Meade and created by Richard Maltby, Jr., this jukebox musical delves into the eternal themes of love and faith, struggle and success, rowdiness and redemption, home and family through the iconic songs of a man who transcends genres.
Featuring over three dozen of the music legend's songs, including "Folsom Prison Blues," "Thing Called Love," "Five Feet High and Rising," "Daddy Sang Bass," "Ring of Fire," "I Walk the Line," "I've Been Everywhere," "The Man in Black" and many more, RING OF FIRE honors Cash's life and music through the acting and vocal talents of professionals Melissa Dowty, Nathan Freeman, Brian Veith and Mindy Wedner.
The top-notch players interpreting Cash's music include Travis Wetzel, of the Travis Wetzel Trio, on fiddle; Lisa Horngren, of The Tennessee Three, and John Waddle on electric guitar; up-and-coming recording artist Scott Stowe on acoustic guitar; Thad Wallus on bass; Matt Whittenburg on drums; and Tom Thayer on keyboard.
RING OF FIRE opens February 12 and runs through February 27, playing Wednesdays and Thursdays at 7pm and Fridays and Saturdays at 8pm, with a 2pm matinee on Saturday, February 20. Tickets are $20 (adults) and $15 (ages 13 and under). The Saturday, February 13, performance is a special Valentine's offering, "Martinis with Johnny," featuring martinis and heavy hors d'oeuvres at 7pm with RING OF FIRE following at 8pm. Tickets are $50 for this performance. Tickets to all performances can be purchased online at www.roxyregionaltheatre.org, by phone at 931-645-7699, or at the theatre during regular box office hours (9am-2pm, weekdays).
Sections
Arts and Leisure
Topics
Brian Veith, Greg Williamson, John Waddle, Johnny Cash, Lisa Horngren, Matt Whittenburg, Melissa Dowty, Mindy Wedner, Nathan Freeman, Ring of Fire, Roxy Regional Theatre, Scott Stowe, Thad Wallus, Tom Thayer, Travis Wetzel