County-by-County Snapshot Shows Influence of Multiple Factors on Health Outcomes

NASHVILLE – The University of Wisconsin Population Health Institute and the Robert Wood Johnson Foundation released the County Health Rankings, the first report to rank the overall health of the counties in all 50 states – more than 3,000 total – by using a standard formula to measure how healthy people are and how long they live, it was announced today.
"The health of a community depends on many factors, including individual behaviors, the quality of health care, education, jobs and the environment," said Health Commissioner Susan R. Cooper, MSN, RN. "While rankings like this can assist in seeing where the strengths and weaknesses are in a community, ultimately it takes all of us — public health, health care, business, education, and government sectors and individuals — to take steps and create programs and policies that will help people lead healthier lives." «Read the rest of this article»
Plans Call for Addition of More Than 20 New Cell Sites and the Expansion of Backhaul to Increase Wireless Network Capacity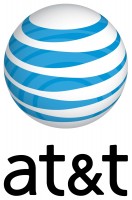 NASHVILLE — AT&T* today unveiled its Tennessee wireless network investment plans for 2010, which include the addition of more than 20 new cell sites and the upgrade of approximately 525 additional cell sites to 3G throughout the state.
The planned wireless network enhancement strategy is part of AT&T's 2010 wireline and wireless capital investment, which is expected to be in the $18 billion to $19 billion range company-wide, an increase of between 5 and 10 percent over 2009. This planned amount also includes an increase of about $2 billion in capital expenditures for wireless and backhaul related to AT&T's wireless network.  This planned level of investment is framed by the expectation that regulatory and legislative decisions relating to the telecom sector will continue to be sensitive to investment.
"We continue to work at creating a favorable state-wide environment that encourages business investment," said Kent Williams, Speaker of the Tennessee House of Representatives. "Expanding the telecommunications network in Tennessee provides consumers with more choices and businesses with more tools to compete."
Today's announcement builds on AT&T's 2009 wireless investment, during which it added nearly 75 new cell sites in Tennessee and upgraded more than 75 existing sites to 3G. From 2007 through 2009, AT&T's total capital investment in its Tennessee wireless and wireline networks was more than $1 billion. «Read the rest of this article»
"Hello, I am Johnny Cash"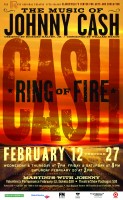 The Roxy Regional Theatre has always done musicals well, so it is no surprise that the "Ring of Fire: The Music of Johnny Cash" was a foot tapping good time. Showcasing the life of country Music Legend Johnny Cash the musical followed his life from his birth, until his death in 2003. The show features  Nathan Freeman, Brian C. Veith, Melissa Dowty, and Mindy Wedner. They were backed up by some great musicians Travis Wetzel, Lisa Horngren, John Waddle, Scott Stowe, Thad Wallus, Matt Whittenburg, and Tom Thayer.
The show runs through February 27, playing Wednesdays and Thursdays at 7pm and Fridays and Saturdays at 8pm, with a 2pm matinee on Saturday, February 20. Tickets are $20 (adults) and $15 (ages 13 and under). Tickets to all performances can be purchased online at www.roxyregionaltheatre.org, by phone at 931-645-7699, or at the theatre during regular box office hours (9am-2pm, weekdays).
This show is based around music and songs of Johnny and June Carter Cash and features 33 individual numbers mixing the voices of the cast in a harmonious blend. The first act's music was positive and celebrated southern life, while the second half takes a somewhat darker tone most likely due to the admitted drug use by Cash. «Read the rest of this article»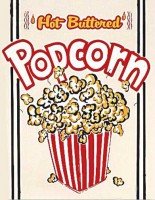 Ask me what my favorite snack is and I won't hesitate a second to tell you that it's popcorn. The aroma of popcorn can drive me to indulge any time day or night. I recently realized that I had no idea where popcorn originated or what makes it pop. Here's what I learned:
According to www.popcorn.org, popcorn was eaten by Native Americans before the time of Jesus. Popcorn kernels more than 1,000 years old were found in tombs on the east coast of Peru; they still popped! Popcorn is believed to have originated in Mexico, but was grown in Sumatra, China and India before Columbus came to the New World.
Aztec girls wore garlands of popcorn in their hair during a popcorn dance during the early sixteenth century. Cortez learned about popcorn when he first came into contact with the Aztecs in 1519. Aztecs used popcorn for necklaces, ceremonial headdresses and to decorate statues of their gods.
By the time Europeans arrived in American, Native Americans knew of about 700 types of popcorn. Native Americans, it is believed, took popcorn to the first Thanksgiving meal as a gesture of good will. «Read the rest of this article»