Special Weather Statement In Effect ... [Click here for more information]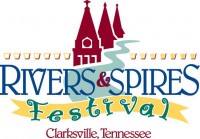 The Rivers & Spires Festival has announced more big-name acts for this year's festival, including a Grammy nominated blues vocalist and musician, and one of the top bands in Christian music.
The 8th Annual Rivers & Spires Festival, April 15-17 in downtown Clarksville, will have seven different stages, with music for all tastes including jazz, blues, Christian, country, rock and variety acts. Applications are still being accepted for booths, sponsors, and vendors (arts & crafts, quilts, marketplace and food). For applications or more information on festival activities and entertainment, visit www.riversandspires.com.
Jimmy Hall and the Prisoners of Love will perform at the Rivers & Spires Festival on Saturday night, April 17. Jimmy Hall, former lead vocalist and harmonica player for Wet Willie, has a long and varied background as a performer, working with Capricorn Records from its early days in the 1970s. Born and raised in Mobile, Alabama, Hall co-founded Wet Willie in 1970. Over the next ten years, Hall and the group toured with Areosmith, the Allman Brothers Band, Grand Funk Railroad and the Grateful Dead. Hall was later nominated for a Grammy Award for Best Male Rock Vocalist for Jeff Beck's 1985 Flash album. After Wet Willie's breakup, Hall moved to Nashville, finding a healthy blues scene in a city known for country music. Hall worked as bandleader, vocalist, saxophonist and harmonica player for Hank Williams, Jr. He has numerous television performances under his belt includingAmerican Bandstand, Solid Gold, CMT special Crossroads, CMA Music Fest and The Jeff Foxworthy Show.
Top Christian acts Chris & Conrad and Big Daddy Weave will take the stage on Friday, April 16. Chris and Conrad is a contemporary Christian music duo from Lakeland, Florida, consisting of Chris Kuti and Conrad Johnson. Their debut single "Lead Me to the Cross" reached #3 on Billboard magazine's top Christian Songs chart. It was their first #1 song on the Christian Radio Weekly Inspirational Chart, as well as the #1 song on theBillboard Soft AC/Inspirational Chart in 2009. Influenced by Jars of Clay, David Crowder and Lifehouse, Chris and Conrad also pull from the ranks of yesterday's mainstream hit makers such as Chicago, The Police and U2.
Big Daddy Weave is a contemporary Christian band composed of Mike Weaver (lead singer), Jay Weaver, Jeremy Redmon, Jeff Jones and Joe Shirk. Their debut project, "One and Only," quickly became a fan favorite, debuting in SoundScan's Christian Top 5, the highest debut for a new artist in 2002. A 2002 Gospel Music Association Dove Award nomination for New Artist of the Year started their career off with a bang. "In Christ" appeared on R&R's AC chart for 24 weeks, peaking at No. 2, becoming the highest charting AC single for a new artist. "Audience of One" was the band's first number one song (Christian Radio Weekly CHR chart) and was one of the top 25 most performed ASCAP songs of 2003. In both 2006 and 2007, Big Daddy Weave toured with Mark Schultz on his Broken and Beautiful Tour. In 2009, they headlined the What Life Would Be Like Tour with guest musician Josh Wilson.
The Public Square Stage will feature John Flanagan and Randy Nations during primetime on Thursday, April 15. John Flanagan is a Boston-born, Nashville-based 22-year-old performer who has spent the majority of his career perfecting the thrill of his dynamic stage presence. Flanagan moved to Nashville in 2005 and immediately began playing to audiences of 1200 as lead vocalist of rock outfit, The Gilly. Flanagan left The Gilly in pursuit of corporate gigs, and has played venues from Georgia, Texas, and Oklahoma to Seaside, Oregon. Currently in production, his 6-song EP is due for release in 2010.
Randy Nations is a Nashville singer, guitar-player and songwriter who headlines regularly at popular Music City honky-tonk The Stage. A veteran rock-n-roller, he leads an excellent band of some of Nashville's most amazing musicians through a smoking set of classic rock-n-roll songs. Randy has performed with several top singers including Toby Keith, Billy Ray Cyrus, Mark Collie and Mark Chestnut.
Sections
Events
Topics
2010 Rivers and Spires, Big Daddy Weave, Chris & Conrad, Jimmy Hall, John Flanagan, Randy Nations, Rivers and Spires