Written by U.S. Army Pfc. Christopher McKenna on Friday, 12 March 2010 22:39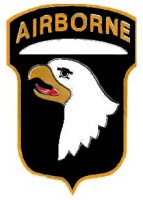 PAKTIKA PROVINCE, Afghanistan – Making use of the lessons Coalition law enforcement trainers have taught them over the past few months, Afghan Uniformed Police in the Sharana district of Afghanistan's Paktika province found and secured a weapons cache.
The cache contained one machine gun, four cans of ammunition, one handheld radio, nine rockets, and various other items.
Working with their own sources and intelligence gathering techniques, the AUP gathered enough information to find the cache.
"This cache is further proof that the Afghan Police are more than capable of conducting independently planned and executed operations," said U.S. Army Capt. Josh Powers, commander of Company A, 3rd Battalion, 187th Infantry Regiment, 3rd Brigade Combat Team, 101st Airborne Division.
Traditionally the AUP have trained to monitor check-points and conduct weapon searches, but U.S. Law Enforcement Professionals have been training them to question suspects and witnesses and glean intelligence from the interviews.
Up until about eight months ago the AUP had no criminal investigators, said Mike Bowles, Task Force Iron LEP.
While the AUP had assigned investigators, there was no program to train them, Bowles said.
The LEPs are partnered with the Afghan investigators, and conducted on-the-job-training, Bowles said, adding that learning from text books would only get the AUP so far.
"We can't just mentor the investigators from a laptop in the (Forward Operating Base)," said Bowles.
The AUP have made great strides over the past eight months under LEP mentorship, he said.
"Originally we were doing it all, but now they are doing most of the work," Bowles said.
Bowles has worked for more than 20 years as an investigator and has been able to put his knowledge to work helping teach and mentor his Afghan partners.
Part of the knowledge Bowles and other LEPs pass on to local police officers is how to conduct productive interviews. The goal is to always try to turn criminal interviews into criminal intelligence, Bowles said.
The AUP put those lessons to the test when they gathered the information that led to the Sharana cache.
Bowles said the AUP is progressing on schedule and will soon have the ability to perform law enforcement in accordance with international standards. "They're about half-way through their training and should be self-sufficient within a year," he said.
Sections
News
Topics
101st Airborne Division, 187th Infantry Regiment, 3rd Brigade Combat Team, Afghan Uniformed Police, Afghanistan, Company A, Josh Powers, Mike Bowles, rd Battalion, U.S. Army