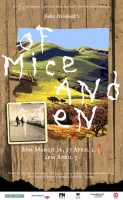 The classic John Steinbeck tale of two drifters in search of work in Depression-era California, OF MICE AND MEN, opens at the Roxy Regional Theatre on March 26 at 8pm, for a limited run.
It stars Gili Getz as George and Kevin Hauver as the simple-minded Lennie, two men who have nothing in the world except each other and a dream that one day they will have some land of their own.  Their hopes are doomed, however, as Lennie, struggling against extreme cruelty, misunderstanding and jealousy, becomes a victim of his own strength.  Directed by John McDonald, this powerful production also features Jay Doolittle, Matthew Patrick, Collin Smith, Shadae Smith, Brian Veith, Jessica Shearer Wilson, Bryan Zoppi and Phil Whittinghill.
The show runs through April 3, playing Fridays and Saturdays at 8pm, with a 2pm matinee on Saturday, April 3.  Tickets are $15 (adults) and $10 (ages 13 and under) and can be purchased online at www.roxyregionaltheatre.org, by phone at (931) 645-7699, or at the theatre during regular box office hours (9am-2pm, weekdays).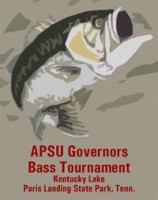 The 16th annual Austin Peay State University Governors Bass Tournament is just around the corner.
This year's edition will be held Saturday, May 8, at Kentucky Lake, with registration and boat launching from Paris Landing, Tenn., State Park. Last season's tournament drew a record 333 boats, 64 more than the previous mark.
Sponsored by Triton Boats by Earl Bentz, The Leaf Chronicle, Legends Bank, Morgan Contractors Inc., Beach Oil, Main Street, 5 Star Radio Group, Jenkins and Wynne Ford Lincoln Mercury Honda Isuzu, B&J Marine, WJZM (1400 AM) Radio, WKDZ 106.5, WVRY 105.1 FM, Wal-Mart Supercenters (Clarksville), DBS and Associates Engineering, Inc. (David Smith), Grandpa's Outdoors, The Tackle Box, The New Clarksville Marina-Prizer Point Marina and Resort along with the Governors Club, the tournament will benefit Austin Peay athletics. «Read the rest of this article»
Have you ever sat and watched as an elderly woman bounces a bright eye baby on her knee? Have you observed how she wraps her aged hands around the soft newness of the young hands and brings them together in a game of Pat-a-Cake? This timeless game of baby bonding has spanned generations and brought laughter to young and old.
The earliest mention was found in Thomas D' Urfey's play The Campaigners from 1698. In 1765 it was written in the following format for the  Nursery book Mother Goose Melody.
Patty Cake, Patty Cake,
Baker's Man;
That I will Master,
As fast as I can;
Prick it and prick it,
And mark it with a T,
And there will be enough for Jacky and me.
Of course, each generation and each culture had its own version of this little rhyme making it their own. What your Grandmother may not have known was that she was teaching her infant important fine motor skills. When you take your baby's hands and bring them together where they touch you are not only working the developing muscles in their arms but you are nurturing hand-eye coordination. «Read the rest of this article»