Paris Landing, TN - The team of Sam Lashlee and Jeff Davis literally cast aside the rest of the field as they captured the first-place prize of $4,000 in the 16th annual Governors Bass Tournament, Sunday.
Lashlee, of Camden, and Davis, of Waverly, came away with a catch of 29.12 pounds to easily outdistance Scott Mansfield, who hauled in 22.42 to take second place and $1,500.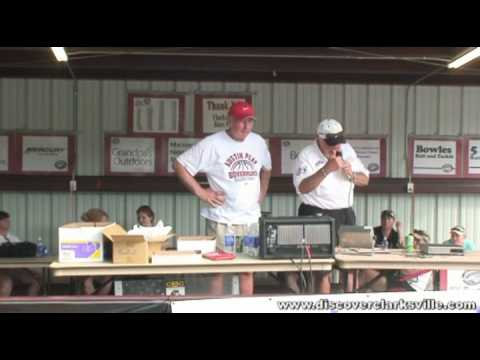 The tournament, originally scheduled for May 8th, was pushed back to Sunday because of flood conditions back in the month's second weekend. The date change didn't seem to faze the anglers as 269 teams launched from Paris Landing State Park. That figure was from the 333 of a year ago but still the second most in tourney history.
In total, $11,000 in prize money was awarded with proceeds from the tournament benefiting Austin Peay athletics.
In addition to Lashlee/Davis and Mansfield, five other teams, Jeremy Conrad/Steven Trull (22.23/$1,000), Russell Moran/Frank Bell (21.59/$600), Doug Pietrzak/Shane Ross (21.33/($400), Marshall Russell/Eddie Basford (20.73/$200) and Jim Story/Harold Knight (20.67) had catches of 20 pounds or more. The top 25 places earned cash prizes.
The team of Stump Spencer/Leo Knowles, however, had the tourney's big fish at 6.83 pounds while the team of Joe Grogan/Joe McElyea were second with a 6.56-pund catch.
Kent Chapman, of Woodlawn, won the drawing for the 150 HP Mercury Outboard motor & $250 gift certificate.
Sam Lashlee and Jeff Davis won the 16th Governors Bass Tournament, Sunday, at Paris Landing State Park.
Photo Gallery
Tournament Winners
| | | | | | |
| --- | --- | --- | --- | --- | --- |
| Place | Team | Raw Catch | Dead fish penalties | Adjusted Catch | Biggest Fish |
| 1 | SAM LASHLEE -JEFF DAVIS | 29.12 | | 29.12 | 6.35 |
| 2 | SCOTT MANSFIELD-*N/A | 22.42 | | 22.42 | |
| 3 | JEREMY CONRAD-STEVEN TRULL | 22.23 | | 22.23 | |
| 4 | RUSSELL MORAN-FRANK BELL | 21.59 | | 21.59 | |
| 5 | DOUG PIETRZAK-SHANE ROSS | 21.33 | 0.25 | 21.08 | |
| 6 | MARSHALL RUSSELL-EDDIE BASFORD | 20.73 | | 20.73 | |
| 7 | JIM STORY-HAROLD KNIGHT | 20.67 | | 20.67 | |
| 8 | PHILLIP HARRIS-JAMES HARRIS | 19.72 | | 19.72 | |
| 9 | COREY JONES-CHARLES JONES | 18.82 | | 18.82 | 6.16 |
| 10 | DOUG STORY-DAVID SCHMIDT | 18.75 | | 18.75 | |
| 11 | DONNIE WILLIAMS-LULA WILLIAMS | 18.6 | | 18.6 | |
| 12 | JOSH BRADLEY-MICHAEL SINGER | 18.46 | | 18.46 | |
| 13 | FREDDIE VAUGHN-RANDALL WATKINS | 18.09 | | 18.09 | |
| 14 | DEREK COTY-TOBY LILLARD | 18.24 | 0.25 | 17.99 | 4.62 |
| 15 | ERIC FULLER-JASON WOODS | 18.14 | 0.5 | 17.64 | |
| 16 | JEFF TAYLOR-BRIAN TAYLOR | 17.16 | | 17.16 | 5.43 |
| 17 | RONNIE COLSON-STEVEN EZELL | 16.79 | 0.25 | 16.54 | 6 |
| 18 | LUKE MILLRANEY-TOMMY MILLRANEY | 16.15 | | 16.15 | |
| 19 | LEO KNOWLES-STUMP SPENCER | 16.3 | 0.25 | 16.05 | * 6.83 |
| 20 | LANCE MOORE-JASON FRENCH | 15.91 | | 15.91 | |
| 21 | THOMAS BRADLEY-TERRY GARDNER | 16.04 | 0.25 | 15.79 | |
| 22 | JEREMY CHILDRESS-SHAWN DARNELL | 14.85 | | 14.85 | |
| 23 | TODD RUTH-CHRIS RUTH | 14.78 | | 14.78 | |
| 24 | STEVE CLENNEY-ALAN BRAJHER | 14.66 | | 14.66 | |
| 25 | TROY DAVIS-DAVID YOUNG | 14.89 | 0.25 | 14.64 | |
Sections
Sports
Topics
APSU, APSU Athletics, APSU Governor's Club, APSU Governors, Austin Peay State University, Dave Loos, Doug Pietrzak, Eddie Basford, Frank Bell, Governors Bass Tournament, Harold Knight, Jeff Davis, Jeremy Conrad, Jim Story, Joe Grogan, Joe McElyea, Kent Chapman, Leo Knowles, Rick Christophel, Russell Moran, Sam Lashlee, Shane Ross, Steven Trull, Stump Spencer