Special Weather Statement In Effect ... [Click here for more information]
In the neighborhood of Savannah Lakes, Breanna Drew, Cate Nelson, Caroline Schroeder, Autumn Brown, and Nichole Romero will be hosting a lemonade stand, June 11th-13th, to raise money for childhood cancer- just like Alex. They are hoping to make $300.00 dollars by the end of this weekend to help hospitals find cures to save kids lives. What they would like for you to do is come out and support them! You can do many things to help them out, such as, coming out to help sell, make, or advertize the stand, and spread the word!
The lemonade stand is in Savannah Lakes behind 416 Treemont Drive, Clarksville, TN  on Carraige Way and will be open 12:00noon – 3:30pm.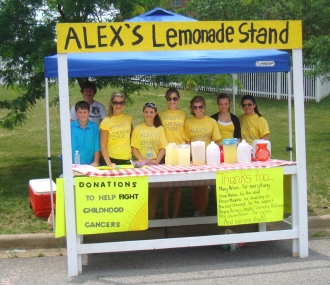 This weekend you can come out and help, buy lemonade, water, or anything else others may bring, donate money for Alex's foundation and help them reach their goal! We hope to see you, your family, your friends, and others at the lemonade stand this weekend! And thank you so much for working so hard to save a child's life.

If you want to help them out, here is a list of items they are in need of: posters, lemonade, wagons, ice chests, cups, water bottles, umbrellas, volenteers, or anything else you think may help; but no ice please!

Money donations for helping them buy more supplies and for the fundraiser are greatly appreciated, but not necessary.

The stand will be open rain or sunshine! If it does rain, however, it will be in the garage of Breanna's House.

On Friday, they had a great time from 12:00noon – 3:30pm. While their goal was to raise $300.00 this weekend, on their first day they made $650.00. Their goal has now changed from $300.00 by this weekend to $1000.00.

For more information, follow them on Facebook.



Sections
Events
Topics
Alex's Lemonade Stand Foundation, Autumn Brown, Breanna Drew, Caroline Schroeder, Cate nelson, Childhood Cancer, Lemonade Stand, Nichole Romero, Savannah Lakes