Winter Weather Advisory In Effect ... [Click here for more information]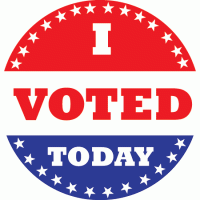 With the turnout at the August 2010 election just a measly 19.04% of registered voters, voters have sent a message. It seems that they do not feel that their vote, their voice really makes a difference.  This is a trend that we as a nation need to work on changing.
The roots of the current apathy towards voting can likely be traced to the current economic uncertainty; along with concerns about job security, such as seen in the recent announcement that 700 people in Clarksville will be losing their jobs at the Quad/Graphics printing plant in North Clarksville.
Several of the incumbents running were voted out of office including:
County Commission District 4: Benny Skinner
County Commission District 7: Ruth Ann Milliken
County Commission District 14: Dwain J. Etterling
General Sessions & Juvenile Court Judge for Division 1: Elizabeth Dozier "Sissy" Rankin
School Board District 7: James T. "Jim" Mann
Photo Gallery
Photos of the August 2010 election taken by Bill Larson and Mark Haynes
Election Results (Write in Candidates not included)
| | | | | |
| --- | --- | --- | --- | --- |
| Race | | Candidate | | Votes |
| | | | | |
| | | | | |
| Governor | | Bill Haslam | | 48.78% |
| (Republican) | | Joe Kirkpatrick | | 1.57% |
| | | Basil Marceaux, Sr. | | 0.65% |
| | | Ron Ramsey | | 22.64% |
| | | Zach Wamp | | 26.27% |
| | | | | |
| | | | | |
| | | | | |
| Governor | | Mike McWherter | | 99.26% |
| (Democrat) | | | | |
| | | | | |
| | | | | |
| | | | | |
| 7th District, U.S. House | | Marsha Blackburn | | 99.35% |
| (Republican) | | | | |
| | | | | |
| | | | | |
| | | | | |
| 7th District, U.S. House | | Greg Rabidoux | | 99.29% |
| (Democrat) | | | | |
| | | | | |
| | | | | |
| | | | | |
| 8th District, U.S. House | | Stephen Lee Fincher | | 20.01% |
| (Republican) | | George Flinn | | 41.93% |
| | | Ron Kirkland | | 31.06% |
| | | Randy Smith | | 4.23% |
| | | Ben Watts | | 2.71% |
| | | | | |
| | | | | |
| | | | | |
| 8th District, U.S. House | | Roy Herron | | 42.80% |
| (Democrat) | | Kimberlee E. Smith | | 57.00% |
| | | | | |
| | | | | |
| | | | | |
| 67th District, TN House | | Neil Revlett | | 99.23% |
| (Republican) | | | | |
| | | | | |
| | | | | |
| | | | | |
| 67th District, TN House | | Joe Pitts | | 99.77% |
| (Democrat) | | | | |
| | | | | |
| | | | | |
| | | | | |
| 68th District, TN House | | Curtis Johnson | | 99.50% |
| (Republican) | | | | |
| | | | | |
| | | | | |
| | | | | |
| 68th District, TN House | | Brett Ramsey | | 99.61% |
| (Democrat) | | | | |
| | | | | |
| | | | | |
| | | | | |
| 78th District, TN House | | Philip Johnson | | 99.65% |
| (Republican) | | | | |
| | | | | |
| | | | | |
| | | | | |
| 78th District, TN House | | Danny R. Twork | | 99.48% |
| (Democrat) | | | | |
| | | | | |
| | | | | |
| | | | | |
| State Committeeman District 22 | | R. Wayne Oldham | | 1 |
| (Republican) | | | | |
| | | | | |
| | | | | |
| | | | | |
| State Committeeman District 22 | | Keith Jackson | | 1 |
| (Democrat) | | | | |
| | | | | |
| | | | | |
| | | | | |
| State Committeewoman District 22 | | Patricia "Pat" Allen | | 99.75% |
| (Republican) | | | | |
| | | | | |
| | | | | |
| | | | | |
| State Committeewoman District 22 | | Kim Smith | | 99.87% |
| (Democrat) | | | | |
| | | | | |
| | | | | |
| | | | | |
| Montgomery County | | Carolyn Bowers | | 66.98% |
| Mayor | | Curtis T. Mize | | 32.87% |
| | | | | |
| | | | | |
| | | | | |
| Montgomery County | | Norman E. Lewis | | 61.68% |
| Sheriff | | Tyler Barrett | | 38.24% |
| | | | | |
| | | | | |
| | | | | |
| Montgomery County | | Kellie A. Jackson | | 99.83% |
| Clerk | | | | |
| | | | | |
| | | | | |
| | | | | |
| Montgomery County | | Brenda Radford | | 99.82% |
| Trustee | | | | |
| | | | | |
| | | | | |
| | | | | |
| Montgomery County | | Connie W. Bell | | 99.86% |
| Register of Deeds | | | | |
| | | | | |
| | | | | |
| | | | | |
| Montgomery County | | John M. Gannon | | 99.88% |
| Commission District 1 | | | | |
| | | | | |
| | | | | |
| | | | | |
| Montgomery County | | Keith Politi | | 99.43% |
| Commission District 2 | | | | |
| | | | | |
| | | | | |
| | | | | |
| Montgomery County | | Ed Baggett | | 64.75% |
| Commission District 3 | | Scott Comperry | | 28.85% |
| | | William B. Linscott | | 6.29% |
| | | | | |
| | | | | |
| | | | | |
| Montgomery County | | Lindsey Fain | | 4.71% |
| Commission District 4 | | Arnold Hodges | | 34.52% |
| | | Mark A. Riggins | | 41.73% |
| | | Benny F. Skinner | | 19.04% |
| | | | | |
| | | | | |
| | | | | |
| Montgomery County | | Robert W. Gibbs Jr. | | 57.36% |
| Commission District 5 | | David Starley | | 42.50% |
| | | | | |
| | | | | |
| | | | | |
| Montgomery County | | Dalton Harrison | | 99.05% |
| Commission District 6 | | | | |
| | | | | |
| | | | | |
| | | | | |
| Montgomery County | | Kenneth D. Day | | 19.24% |
| Commission District 7 | | John Fuson | | 56.20% |
| | | Ruth Ann Milliken | | 24.32% |
| | | | | |
| | | | | |
| | | | | |
| Montgomery County | | Ronald Sokol | | 98.44% |
| Commission District 8 | | | | |
| | | | | |
| | | | | |
| | | | | |
| Montgomery County | | John M. Gennis | | 100.00% |
| Commission District 9 | | | | |
| | | | | |
| | | | | |
| | | | | |
| Montgomery County | | Martha J. Brockman | | 54.33% |
| Commission District 10 | | Keith A. Svadba | | 45.67% |
| | | | | |
| | | | | |
| | | | | |
| Montgomery County | | Joe L. Creek | | 72.75% |
| Commission District 11 | | Donald Lucas | | 27.25% |
| | | | | |
| | | | | |
| | | | | |
| Montgomery County | | Al Colvin | | 46.01% |
| Commission District 12 | | Nick Robards | | 53.72% |
| | | | | |
| | | | | |
| | | | | |
| Montgomery County | | Lettie M. Kendall | | 99.67% |
| Commission District 13 | | | | |
| | | | | |
| | | | | |
| | | | | |
| Montgomery County | | Dwain J. Etterling | | 18.84% |
| Commission District 14 | | Tommy J. Vallejos | | 49.01% |
| | | Mark J. Wojnarek | | 32.14% |
| | | | | |
| | | | | |
| | | | | |
| Montgomery County | | Loretta J. Bryant | | 99.74% |
| Commission District 15 | | | | |
| | | | | |
| | | | | |
| | | | | |
| Montgomery County | | Robert G. Nichols | | 99.77% |
| Commission District 16 | | | | |
| | | | | |
| | | | | |
| | | | | |
| Montgomery County | | Jeremy Bowles | | 99.51% |
| Commission District 17 | | | | |
| | | | | |
| | | | | |
| | | | | |
| Montgomery County | | Glen Demorest | | 99.73% |
| Commission District 18 | | | | |
| | | | | |
| | | | | |
| | | | | |
| Montgomery County | | Charles D. Keene | | 99.76% |
| Commission District 19 | | | | |
| | | | | |
| | | | | |
| | | | | |
| Montgomery County | | Thomas "Tommy" Allen | | 35.61% |
| Commission District 20 | | Mark H. Banasiak | | 64.24% |
| | | | | |
| | | | | |
| | | | | |
| Montgomery County | | Jerry W. Allbert | | 99.84% |
| Commission District 21 | | | | |
| | | | | |
| | | | | |
| | | | | |
| Circuit Court Clerk | | Cheryl J. Castle | | 72.46% |
| | | Peggy Macias | | 27.49% |
| | | | | |
| | | | | |
| | | | | |
| General Sessions & | | Merriel Bullock-Neal | | 15.48% |
| Juvenile Court Judge | | Ken Goble, Jr. | | 49.97% |
| Division 1 | | Elizabeth Dozier "Sissy Rankin | | 34.49% |
| | | | | |
| | | | | |
| | | | | |
| TN Superior Court Judge Lee | | Retain | | 71.36% |
| | | Replace | | 28.64% |
| | | | | |
| | | | | |
| | | | | |
| Court of Appeals Judge East | | Retain | | 72.02% |
| | | Replace | | 27.98% |
| | | | | |
| | | | | |
| | | | | |
| | | | | |
| School Board | | George Giles | | 99.71% |
| District 1 | | | | |
| | | | | |
| | | | | |
| | | | | |
| School Board | | Horace Murphy, Jr. | | 99.39% |
| District 3 | | | | |
| | | | | |
| | | | | |
| | | | | |
| School Board | | Jimmie M. Garland, Sr. | | 99.47% |
| District 5 | | | | |
| | | | | |
| | | | | |
| | | | | |
| School Board | | Josh Baggett | | 34.32% |
| District 7 | | Carol Duffin | | 30.10% |
| | | James T. "Jim" Mann | | 28.51% |
| | | Ben Moore | | 6.97% |
| | | | | |
| | | | | |
Sections
Politics
Topics
August 2010 Election, Benny Skinner, Bill Haslam, Bill Larson, Brenda Radford, Brett Ramsey, Carolyn Bowers, Charles D. Keene, Cheryl J. Castle, Clarksville-Montgomery County Election Commission, Connie W. Bell, Curtis Johnson, Dalton Harrison, Danny R. Twork, Dwain J. Etterling, Ed Baggett, Election 2010, Elizabeth Dozie Rankin, George Flinn, George Giles, Glen Demorest, Greg Rabidoux, Horace Murphy Jr., James T. Mann, Jeremy Bowles, Jerry W. Albert, Jimmie M. Garland Sr., Joe L. Creek, Joe Pitts, John Fuson, John M. Gennis, Josh Baggett, Keith Jackson, Keith Politi, Kellie A. Jackson, Ken Gobles, Ken Gobles Jr., Kim Smith, Kimberlee E. Smith, Lettie Kendall, Loretta J. Bryant, Mark A. Riggins, Mark H. Banasiak, Mark Haynes, Marsha Blackburn, Martha J. Brockman, Mike McWherter, Neil Revlett, Nick Robards, Patricia Allen, Phillip Johnson, R. Wayne Oldham, Robert G. Nichols, Robert W. Gibbs Jr., Ronald Sokol, Ruth Ann Milliken, Tommy Vallejos, Tyler Barrett, Vickie Koelman, voter apathy