Campbell Crossing to help residents feel at home

Fort Campbell, KY – On September 7th Fort Campbell Family Housing will change its name to Campbell Crossing.  Along with the name, the logo will be changing.  These changes come at a key time in the project as it transitions from the initial development phase to the long-term operation of the project.
The project team felt the new name and logo needed to keep with the history and tradition of Fort Campbell while at the same time offering a sense of place that the Soldiers and Families deserve and understand. The name also needed to be sensitive to the unique circumstances of Fort Campbell being located in two states. Finally, the new name also clearly establishes ownership responsibility to Lend Lease Corporation the Privatization partner with the Army in charge of on-post housing.
Along with a new name and look, the project has selected a positioning statement that represents the type of climate it wants to create for the Residents and project employees.  It not only ties to the lifestyle found in this region and references the Division's storied history, but it clearly states what the project wants to do for the Army Families that call Fort Campbell "Home". 
The life for military families today is complicated and full of unknowns and the "Simplified Living, Rich in History" shows our commitment to providing a great quality of life as well as a wonderful place to call home.
Campbell Crossing's rebranding efforts are part of a nation-wide initiative taking place at military residential communities in the Actus Lend Lease portfolio, which is intended to create a family of Actus brands and better represent the quality of communities and services the company and its military partners are providing to families.
Campbell Crossing has already launched its new name on its website www.campbellcrossingllc.com and on Facebook at facebook.com/campbellcrossing.
About Campbell Crossing
Campbell Crossing LLC (CC) is a 50-year partnership created between the Department of the Army and Actus Lend Lease through the Military Housing Privatization Initiative (MHPI). Since December 2003, CC has developed more than 1,000 new homes and renovated more than 2,000 homes, and will continue to finance, develop, build, renovate and operate the site for 50 years.
About Actus Lend Lease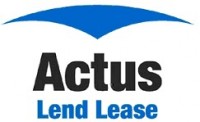 With more than 40,000 homes in its portfolio, Actus Lend Lease is the nation's leader in public/private community development. With a focus on creating sustainable value, Actus Lend Lease communities are unrivaled in their attention to design, technology and environmental sensitivity.
Known for its innovative initiatives, Actus Lend Lease has developed some of the most sustainable communities throughout the military, including the two largest solar-powered communities in the U.S. at Army Hawaii and Davis-Monthan Air Force Base, New York State's largest energy-efficient community development at Fort Drum Mountain Community Homes and the largest LEED Silver-certified community in the state of Texas at Fort Hood (Saddlestone Ranch). 
Actus was also chosen as the Department of Energy's partner to launch Operation Change Out, an initiative geared at replacing all incandescent light bulbs with the more energy-efficient CFLs on all military installations. Actus has garnered many national awards for its sustainable initiatives, including the 2009 Department of Energy Excellence in Energy Star Promotions Award. For more information, visit actuslendlease.com.
Sections
News
Topics
Actus Lend Lease, Campbell Crossing, Fort Campbell Family Housing, Fort Campbell KY