Junior outside hitter Ilyanna Hernandez, of the Austin Peay State University women's volleyball team, has been named the Copies In a Flash APSU Athlete of the Week.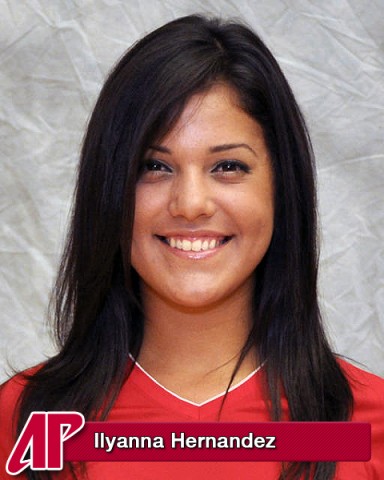 Hernandez was named the Ohio Valley Conference's "Player of the Week" after leading the Lady Govs with 46 kills (4.18 kills per set) en route to all-tournament honors at the IUPUI Hampton Inn Invitational, last weekend.
She also led the team with seven service aces and chipped in defensively with 32 digs (2.91 digs per set).
Hernandez recorded 16 kills against both Wright State and DePaul before posting 14 kills against IUPUI.
Copies in a Flash, of Clarksville, sponsors the award.
Other notable performances by Austin Peay athletes included:
Junior Enock Langat, of the Austin Peay men's cross country team, was named OVC "Runner of the Week" after finishing 14th (11th among collegiate runners) with a time of 16:08.37 in the five-kilometer race at the Belmont-Vanderbilt XC Opener, Friday.
Senior Antonio Faulkner, a defensive tackle on the Austin Peay football team, led the Govs defense in a 38-6 win against Cumberland, Thursday night. Faulkner was credited with eight tackles, including 3.5 (12 yards) for loss. He also had a quarterback sack and a forced fumble on the night. He was named an honorable mention Defensive Line Performer of the Week by the College Football Performance Awards.
Junior Wes Kitts, a running back on the Austin Peay football team, raced to a 68-yard fourth-quarter TD run to provide the final score in the Govs 38-6 win against Cumberland. Kitts, a third-string running back who missed the majority of 2009 with an injury, ran for 107 yards on 12 carries for an average of 8.9 yards per rush. He was one of two APSU backs, junior Terrence Holt the other, to run for more than 100 yards against Cumberland.
Sophomore Jocelyn Murdoch, a sophomore forward on Austin Peay women's soccer team, scored two goals against Troy, Sunday, in a 5-2 loss. Murdoch came off the bench in both games at the Troy Invitational, providing a much-needed spark in Sunday's game. She finished with three shots, and was named to the all-tournament team for her efforts.
Junior Paige Economos, a junior libero on Austin Peay's volleyball team, also was named to the IUPUI Hampton Invitational all-tournament team after leading the Lady Govs with 46 digs (4.18 digs per set). She led a defense which limited opponents to a .135 attack percentage at the tournament.
Sections
Sports
Topics
Antonio Faulkner, APSU, APSU Athlete of the Week, APSU Women's Volleyball, Austin Peay State University, Copies in a Flash, DePaul, Enock Langat, Ilyanna Hernandez, IUPUI, IUPUI Hampton Inn Invitational, Jocelyn Murdoch, Ohio Valley Conference, Paige Economos, Player of the Week, Wes Kitts, Wright State