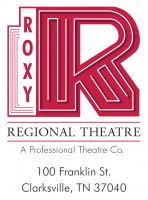 The Roxy Regional Theatre held their Annual Roxy Gala as a part of the Downtown Clarksville Association's Frolic on Franklin Street. The event features a silent auction, an elegant candle lit dinner under tents in the middle of Franklin Street, a art auction, and finally the attendees were treated to a performance of the latest Roxy Regional Theatre production, Shout: The "Mod" Musical.
Two of the most highly sought after items this year were a framed photo of Jack Sparrow in Pirates of the Caribbean, signed by actor Johnny Depp, and A Fender Squier Bullet Strat Guitar signed by Paul McCartney; a member of the legendary British rock band the Beatles.
Linda Barnes won the silent auction for the photo of Jack Sparrow, while the guitar went for $3,200 in the auction. F&M Bank President Sammy Stuard served as the Auctioneer for the evening.
The Roxy Regional Theatre is in the middle of a campaign to raise $1,000,000 to begin the next stage of the construction of their new Roxy Regional Center for the arts
"Throughout their 24-year history, the Roxy Regional Theatre has utilized an old style 1947 movie house as their performance space, shop, rehearsal space, storage, classrooms, art gallery, offices, and banquet facility. Most of these were in the same space and have become both economically draining and artistically limiting." said John McDonald the Roxy Regional Theatre's Artistic Director. He continued "Now we begin a transformative step for the arts in Clarksville creating an opportunity to further anchor and broaden our commitment to serving this community by building a new Center for the arts.  Just as the Roxy Theatre was on the cutting edge in the 1940's, this new complex, designed by John Sergio Fisher, will be a state of the art complex of distinctive design that will generate a new enthusiasm not only for downtown Clarksville, but also for this entire region."
Photo Gallery
The Roxy Regional Center for the Arts
According to their Prospectus for the Roxy Regional Center for the Arts.
The Roxy Regional Theatre is one of America's fastest growing regional theatres thanks to broad community and regional support. Like all great cultural institutions, our proposed Center for Arts and Education will rely on private as well as corporate donations. Its vibrancy will reflect the thoughtful generosity of citizens who want to play a part in building a great organization for their community, and who want the best possible quality of life for everyone in the community and for generations to come.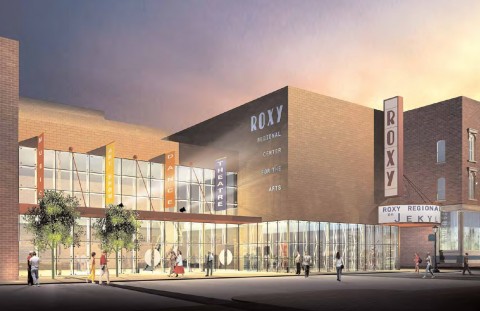 The new center will feature:
A world class performance hall seating 500 where outstanding theatrical seasons of musicals, classics, Shakespeare, children's and special performances of the highest quality can perform alongside music concerts, dance recitals, touring productions as well as corporate meetings
Arts education programs that currently serve over 26,000 students and provide critical enrichment to schools in numerous Tennessee and Kentucky counties
Cutting Edge Programs such as our "pay-what-you-can" previews which allows every Tennessean in this region an opportunity to explore the theatre regardless of economic background
Tourist Center at the hub of our historic district Local Art Gallery, Studios and Gift Shop
Life enhancing experiences that currently reach audiences of over 50,000 annually
New enrichment programs such as Kindermusic, a music program for created for children and their parents
Roxy Dance, a new structured dance company
Adult Acting, taught by seasoned professionals in our company
Exceptionally talented professional actors, singers, dancers and musicians whose presence in our community enriches our teaching institutions and our arts
Distinction for our city as a center for first rate arts, culture and entertainment that promotes economic development in Middle Tennessee
The Roxy is currently conducting a fund raising drive in order to convince 1000 people to donate at least $1000 each. This would raise the $1,000,000 needed to kick off the next phase of the construction on the Roxy Regional Center for the Arts. They are reaching out to the community through phone-a-thons by actors, board members, and through well connected community members to reach their goal of 1,000 donors.
If you are interested in donating to help them reach their goal, contact the Roxy Regional Theater via email at roxytheatre@bellsouth.net or by telephone at (931) 645-7699.
About Bill Larson
Bill Larson is  is politically and socially active in the community. Bill is a member of the Friends of Dunbar Cave.

You can reach him via telephone at 931-249-0043 or via the email address below.
Sections
Arts and Leisure
Topics
Frolic on Franklin Street, Historic Downtown Clarksville, oi, Roxy Gala, Roxy Regional Center for the Arts, Roxy Regional Theatre