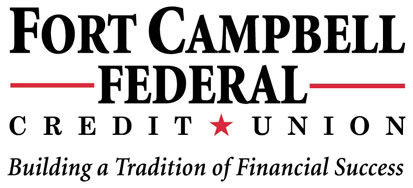 Fort Campbell Federal Credit Union working together with the Clarksville-Montgomery County School system has kicked off a pilot program in which they have opened two student-run branches at North East High School and Rossview High School. The branches will be open from 11:00am through 12:30pm on Monday, Wednesday, and Thursday at Rossview; and Tuesdays, Thursdays, and Fridays at North East.
16 students were selected from each school after a vetting process that included first being selected from among their classmates in the Banking and Finance course, a job interview with Fort Campbell Credit Union staff, and completion of a paid training program over the summer. They then became bonded credit union employees trained to perform a variety of transactions and earning a competitive wage for the time they are assigned to work in the branch. An adult credit union manager will oversee the branches and will directly supervise and mentor the students during their working hours.
"The students are excited about this opportunity" said Lynda Basham the Rossview High teacher in charge of the program there. "They are more like employees, then my students" she said. The way the program is set up, the 16 students are broken up into class groups of four students. The students in the group help each other keep informed of what is going on in their normal classes; the students in class help the other students who on duty as tellers by taking notes and getting handouts and assignments for them. They swap this job out on different days.
Basham hopes that by working in the School's Credit Union Branch more of her students will develop an interest in having a career in the financial industry. It seem as if this plan is already bearing fruit, "After attending the training program this summer, several of my students have already made the decision to specialize in finance in college" she said.
Stewart Ramsey, President and CEO of Fort Campbell Federal Credit Union said "We are very happy to have these branches up and running, it has been a 1 year process," he continued "Being active in our communities is part of what Credit Unions are about. We are working to give the students at these schools a chance to work with the financial system. The Credit Union staff gets real world experience working in the banking industry, while the rest of the students get access to a first class financial institution right there in their school."
"This is a great example of a public-private partnership," said State Representative Joe Pitts who was on hand for the opening at Rossview High School, "Not only will the students in the program get real world hands on experience, they get an indirect lesson in financial literacy."
Montgomery County Mayor Carolyn Bowers was also on hand for the opening, as a business and computer teacher for 29 years, she had first hand experience teaching Montgomery County students about banking. She said "It was wonderful for Fort Campbell Federal Credit Union to do this for our students. By having easy access to a bank students can deposit funds, get their balances, and more." She said "Hopefully this experience will help our students to begin to planning for their financial futures."
Ramsey sees additional opportunities for their becoming more involved in the classroom. "Fort Campbell Federal Credit Union could provide additional assistance with teaching students how to better manage their money, by holding financial simulations where students practice managing a budget; buying their clothing, food, and other necessities; paying their bills." he said.
"Fort Campbell Federal Credit Union has been really great working with our school" said Rossview High School Principal Frank Myers, "This summer we traveled to Lafyette Indiana, where we got to see two student run financial institutions in action. We saw first hand the benefits that can arise from having these kinds of programs in action here in our schools."
Photo Gallery
Photos from Rossview High School's opening of the student operated branch of Fort Campbell Federal Credit Union
About Bill Larson
Bill Larson is  is politically and socially active in the community. Bill is a member of the Friends of Dunbar Cave.

You can reach him via telephone at 931-249-0043 or via the email address below.
Sections
Education
Topics
Banking and Finance Class, Carolyn Bowers, Clarksville Montgomery County School System, Fort Campbell Federal Credit Union, Frank Myers, Joe Pitts, Larry Carter, Lynda Basham, Nellynn Henson, North East High School, Rossview High School, Stewart Ramsey, Tom Denny