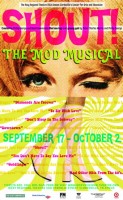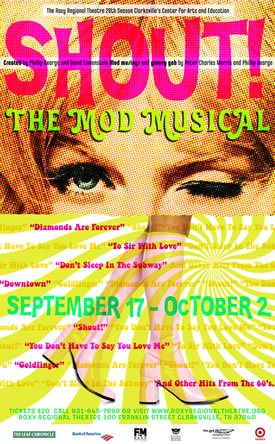 The Roxy Regional Theatre is currently putting on a production of Shout! The Mod Musical. Featuring five beautiful women who are identified by the colors that represent their individual personalities; Orange, Red, Green, Blue, and Yellow. The musical follows their lives and loves during the 1960's which was wonderfully illustrated by using the music, dance, fashion, and via pop culture references from those tumultuous times. Only four performances remain (Wednesday, Thursday, Friday, and Saturday) so you need to make your plans to see this wonderful show as soon as possible!
The Orange Girl (Laura Lynne Tapper) is domestic and maternal. She is wholeheartedly devoted to the care of her faithful husband, and her 2.7 adorable children; She is completely contented and completely in denial. The Red Girl (Rylee Card)is an exciting blend of youthful contradictions. She is naive yet knowing, graceful yet awkward, inquisitive yet frightened; in essence the Red girl is a big mess. The Green Girl (Kendall Anne Thompson) is a bit of a tramp. The Blue Girl (Joanna Carpenter) has been blessed by the gods with poise and beauty, and doesn't she know it; which is probably why the blue girl has no friends. The Yellow Girl (Lia Sumerano) is driven by her emotions, she is loud and thoughtless; and quite possibly American.
Also in the show are the voice of Gwendolyn Holmes (Jackie Ostick), and the voice of Shout Magazine (Ryan Bowie). Tom Thayer plays the piano, and Thad Wallus mans the drums.
The girls all read Shout, the magazine for the modern woman. They also turn to its advice columnist Gwendolyn Holmes for advice in handling the situations that come up in their lives.
The Orange girl sends the first letter:
Dear Gwendolyn Holmes,

I met a wonderful man, his name is Myles. We met at the discotheque, when the Dave Clark Five played "any way you want it", we both began to Frug. I love to Frug, and nobody Frugs like Myles. He is so free with his body. If not for his teeth, you would never know he was British! Now he wants me to marry him. I love him, yet I have this uneasy feeling that it's all too good to be true. Should I trust this feeling, or throw caution to the wind and accept.

Someone in Guildford.
To which Gwendolyn publishes a vapid response in the Magazine:
Dear Someone in Guildford,

It is never a mistake to get married, it's what every girl dreams of! There is no higher aspiration that you can have, than being a wife and mother. Perhaps you can clear up the confusion in your head by redoing what's on your head. A new becoming hairstyle is just what you need to see your destiny clearly. This should be a time of joy, celebrate!
We are moved along by the wonderful music of the 1960's performed by these fabulous girls. Their singing of the popular songs featured in this show prompted wild applause and cheers from the audience. After the show some of the older attendees were talking about how much seeing the performance was such a blast from the past. The show features numbers like England Swings, I Know a Place, Wishin' and Hopin', To Sir with Love, the positively smoking rendition of Son of a Preacher Man, Downtown, Georgy Girl, and many more of the wonderful tunes from this era.
All of the girls were exceptionally talented, and each one shone on various numbers throughout the performance. However one girl stood out, most likely due to the fact that she was given some very funny gestures and movements to perform during the show. That was the Red girl, Rylee Card. She repeatedly had the audience laughing throughout the show.
The casting of a Roxy Regional Theatre show is always outstanding, it's absolute magic how John McDonald and Tom Thayer can so consistently find just the right person for each of the parts in their shows, it's a real talent of theirs! The Direction and Choreography was by Tom Thayer. Adam Kurtz the stage manager, handles the sound and lighting for the show.
The various dimensions of the multilevel stage were used to perfection during the show. I particularly loved the vivid colors and the gigantic flowers along the back of the stage.
The costumes were spot on perfect, they were leased through the courtesy of Lang Entertainment Group and the Ogunquit Playhouse, in Ogunquit Maine.
Shout was created by Phillip George, David Lowenstein, & Peter Charles Morris. It was originally produced off-broadway in New York City by Victoria Lang & P.P. Piccoli, & Mark Schwartz. Developed in association with Amas Musical Theatre, Donna Trinkoff, Producing Director.
Schedule
Wednesday Sep 29th, 2010
7:00pm
Roxy Regional Theatre
Clarksville, TN
$15/$20
ORDER >
Thursday Sep 30th, 2010
7:00pm
Roxy Regional Theatre
Clarksville, TN
$15/$20
ORDER >
Friday Oct 1st, 2010
8:00pm
Roxy Regional Theatre
Clarksville, TN
$15/$20
ORDER >
Saturday Oct 2nd, 2010
8:00pm
Roxy Regional Theatre
Clrksville, TN
$15/$20
ORDER >
Photo Gallery
The Roxy Regional Center for the Arts
The Roxy is currently conducting a fund raising drive in order to convince 1,000 people to donate at least $1,000 each. This would raise the $1,000,000 needed to kick off the next phase of the construction on the Roxy Regional Center for the Arts. They are reaching out to the community through phone-a-thons by actors, board members, and through well connected community members to reach their goal of 1,000 donors.
If you are interested in donating to help them reach their goal, contact the Roxy Regional Theater via email at roxytheatre@bellsouth.net or by telephone at 931-645-7699.
According to their Prospectus for the Roxy Regional Center for the Arts.
The Roxy Regional Theatre is one of America's fastest growing regional theatres thanks to broad community and regional support. Like all great cultural institutions, our proposed Center for Arts and Education will rely on private as well as corporate donations. Its vibrancy will reflect the thoughtful generosity of citizens who want to play a part in building a great organization for their community, and who want the best possible quality of life for everyone in the community and for generations to come.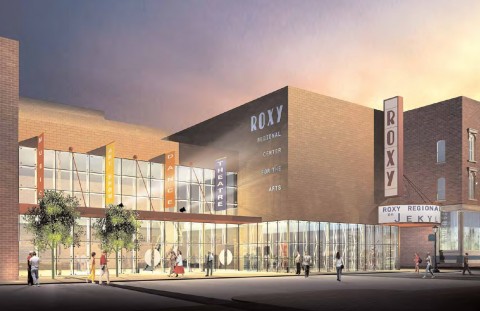 The new center will feature:
A world class performance hall seating 500 where outstanding theatrical seasons of musicals, classics, Shakespeare, children's and special performances of the highest quality can perform alongside music concerts, dance recitals, touring productions as well as corporate meetings
Arts education programs that currently serve over 26,000 students and provide critical enrichment to schools in numerous Tennessee and Kentucky counties
Cutting Edge Programs such as our "pay-what-you-can" previews which allows every Tennessean in this region an opportunity to explore the theatre regardless of economic background
Tourist Center at the hub of our historic district Local Art Gallery, Studios and Gift Shop
Life enhancing experiences that currently reach audiences of over 50,000 annually
New enrichment programs such as Kindermusic, a music program for created for children and their parents
Roxy Dance, a new structured dance company
Adult Acting, taught by seasoned professionals in our company
Exceptionally talented professional actors, singers, dancers and musicians whose presence in our community enriches our teaching institutions and our arts
Distinction for our city as a center for first rate arts, culture and entertainment that promotes economic development in Middle Tennessee
About Bill Larson
Bill Larson is  is politically and socially active in the community. Bill is a member of the Friends of Dunbar Cave.

You can reach him via telephone at 931-249-0043 or via the email address below.
Sections
Arts and Leisure
Topics
Adam Kurtz, Jackie Ostick, Joanna Carpenter, John McDonald, Kendall Anne Thompson, Lang Entertainment Group, Laura Lynne Tapper, Lia Sumerano, Ogunquit Playhouse, Roxy Regional Center for the Arts, Roxy Regional Theatre, Ryan Bowie, Rylee Card, SHOUT!, Thad Wallus, Tom Thayer