Clarksville, TN – Cleo Devontae Gadson turned himself in at Clarksville Police Department Headquarters, located at 135 Commerce Street. Gadson was wanted for the shooting of a 14 year old girl on September 11th, 2010 around 9:20pm at 941 Ford Street.
Gadson was allegedly showing off a weapon to several people when it discharged a round, striking the victim, who has been identified as Neoasha Johnson once in the head. The victim remains in the hospital in stable condition.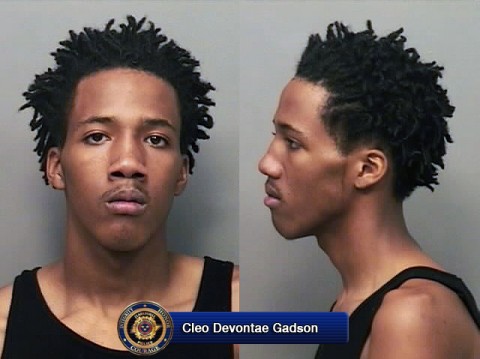 Cleo Gadson 
Cleo Devontae Gadson  (B/M)
DOB: 09/16/91,
Given Address: 941 Ford Street, Clarksville, TN
Booked into: Montgomery County Jail
Charged with: Criminal attempt reckless homicide, and served with two petitions to revoke warrants for driving on revoked license and contributing to the deliquency of a minor.
Bond: Held without bond
Anyone who has information about the shooting is asked to contact Det. Tim Finley at 931-648-0656 ext. 4008.
Sections
News
Topics
Bond, Clarksville Police Department, Cleo Devontae Gadson, Contributing to the Deliquency of a Minor, CPD, Criminal Attempt Reckless Homicide, Driving on Revoked License, Ford Street, Montgomery County jail, Neoasha Johnson, shooting, Shooting Suspect