Candidate Highlights Faith at Open Meeting in Montgomery County
Dresden, TN – Congressional candidate Roy Herron will talk with citizens about the importance of faith and public service this week in Clarksville as a part of his God and Politics book tour.

Herron will host a public gathering at Austin Peay on September 29th, 2010 at 1:30pm. He will give away free copies of his book entitled God and Politics: How Can a Christian Be in Politics?

In the book, Herron shares how Biblical values have shaped America and tells why and how people of faith should help lead this country.

"I hope people will read the book and see how Christians can and should be in politics and public service," Herron said. "America needs more people of faith in leadership."

Herron has served as a minister, taught ministerial students and still teaches Sunday school. As a part-time citizen legislator, Herron wrote Tennessee's laws that protect both Bible study and prayer in public schools. Herron is pro-life and for traditional marriage.

In its third printing since 2005, God and Politics has nine chapters including "Doing Justice," "Protecting Life," "Defending Freedom" and "Beyond Partisanship." The new edition contains photographs of Herron, his wife Nancy and their three sons.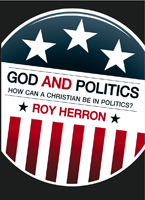 Herron, a Christian author, has written three books, Sunday school and devotional literature, as well as articles of biblical scholarship.
As part of his campaign to represent the 8th District in the U.S. Congress, Herron recently sent his book to thousands of households across West and Middle Tennessee.
Citizens who have not yet received a free copy are invited and encouraged to come to Herron's local meeting, visit www.RoyHerron.com or call his office at 731-364-5415.
About Roy Herron
Small-town attorney and Christian author Roy Herron is running for Congress to bring jobs to Tennessee and fiscal responsibility to Washington. As a part-time citizen legislator, Herron has fought predatory lenders, passed laws that are tough on criminals, and wrote and passed the Crime Victims' Bill of Rights. In addition to God and Politics, Herron is the author of Things Held Dear: Soul Stories for My Sons and Tennessee Political Humor: Some of These Jokes You Voted For (with L.H. "Cotton" Ivy). He and his wife of 23 years, Nancy, live in Dresden and have three sons.
Sections
Events
Topics
8th Congressional District, Austin Peay State University, Congress, Election 2010, God and Politics Book Tour, Nancy Herron, Roy Herron