Fort Campbell, KY – Child, Youth & School Services (CYSS) is offering wonderful programs during the month of October for Fort Campbell youth. Experience, Develop, Grow, and Excel (EDGE) is an opportunity for kids to experience cutting edge art, fitness, life skills and adventure programs.
Challenge Course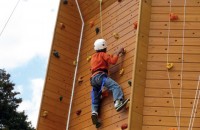 Come play on the outdoor ropes course on October 8th, 15th, 22nd, and 29th. The climbing wall has many different routes with eight varying sides offering routes from beginner to advanced. This clinic will cover the basics of using the low ropes course and to prepare participants to see if they have what it takes to conquer the Alpine Tower, Odyssey, and Carolina T Wall of the high ropes courses.
This is a great way to develop team building skills. Fifteen slots are available for youth ages 11 to 18. Transportation to and from Outdoor Recreation will be provided by CYSS. Bus will depart from Taylor Youth Center 4:30pm, and youth will return to Taylor Youth Center for pick-up at 6:00pm.
Zumba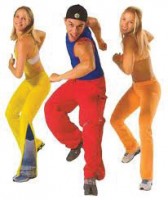 Pump up the jams and feel the beat of the music as you Zumba with EDGE! That's right; the latest fitness craze will be taking place at Taylor Youth Center.
Join the fun and excitement, and discover why everyone that has tried Zumba loves it on October 4th, 18th, and 25th. From 5:00pm to 6:00pm Latin rhythms and easy to follow moves will create a dynamic fitness class for twenty youth ages 11 to 18.
Hot Shots Trap Shooting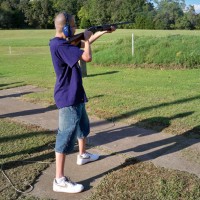 CYSS is offering EDGE: Hot Shots; a FREE trap shooting program taking place October 5th, 12th, 19th, and 26th, from 4:30pm until 6:00pm. This is a great opportunity for ten older teens, 15 to 18, to be educated on the proper operation and procedures used at the Skeet and Trap facility within the Outdoor Recreation division. Instruction will be provided by Don Donnelly who is a certified trap and skeet instructor as well as a Civilian of the Year award recipient.
All needed equipment will be supplied by EDGE. Parents are required to sign a liability waiver in order for their teen to participate in the program. Teens are to be dropped off at Taylor Youth Center at 4:30pm. The EDGE program will then transport the teens to and from the activity, and return to Taylor Youth Center where teens will be picked-up at 6:00pm.
Paintball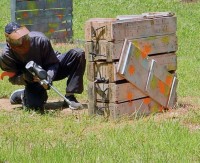 Take the game of Capture the Flag to a whole new level when you add the thrill and excitement of paintball. Join Child, Youth and School Services (CYSS) every Wednesday, October 6th through October 27th, for amazing fun with paintball. There are only twenty spaces available for teens ages 13 to 18 to participate, so sign up early.
Participants will be grouped into teams that will compete against each other to become the champions of the paintball field. All gear will be supplied by CYSS and transportation to and from the paintball field will also be included.
The bus will depart from Taylor Youth Center at 4:30pm and will return at 6:00pm. Participants are encouraged to wear long pants, long sleeve shirts, tennis shoes, and to bring bug/tick spray.
Jamtastic
Come jam with EDGE! Jamtastic as participants will be introduced to a bass guitar, electric guitar, and drums; and will have the opportunity from an instructor to pair notes and beats. Jam sessions will take place at Dale Wayrynen Recreation Center (DW Rec.) on October 7th, 14th, 21st, and 28th.
Transportation to DW Rec. is available through CYSS. Bus will depart Taylor Youth Center at 4:30pm and will return at 6:00pm. EDGE! Jamtastic has eight participant slots available for youth 11 to 18.
All interested participants must be registered with CYSS and can sign up for the various EDGE! programs at Building 3301 or Taylor Youth Center. Depending on the location of the activity, transportation may or may not be provided by EDGE! staff.
For more information about the October EDGE! programs, please call or email Mike Sampson at 270-498-8002 or michael.sampson6@us.army.mil.
Sections
Events
Topics
Capture the Flag, Challenge Course Complex, Child Youth & School Services, CYSS, Dale Wayrynen Recreation Center, EDGE, Experience Develop Grow and Excel, Jamtastic, Paintball, Taylor Youth Center, Trap Shooting, Zumba