Written by Bagram Media Center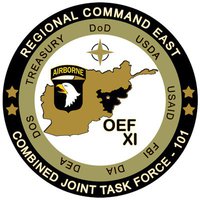 Bagram Airfield, Afghanistan – Two Afghan males were treated October 6th after approaching a Bagram Airfield gate with injuries sustained from a detonated landmine.
The wounded teenagers were visiting Jan Qadam village, which borders Bagram's west side, to attend a wedding. After the wedding, one of the individuals climbed a tree to pick fruit, while the other watched from the ground. When the young man jumped down from the tree, a landmine detonated, injuring both individuals.
Family members brought the wounded to Camp Montrond's back gate where medics treated them at the scene. One of the wounded sustained a partial foot amputation and the other sustained minor blast injuries to the left side. Both were then transported to Bagram's Craig Joint Theater Hospital for follow-on treatment.
"We are very glad that the U.S. Soldiers helped them," said family members through an interpreter.
Minefields remain scattered around Bagram, cordoned off by barbed wire and signs. It is suspected that thousands of mines remain from the Soviet occupation.
Sections
News
Topics
Afghanistan, Bagram Airfield, Camp Montrond, Craig Joint Theater Hospital, Jan Qadam Village, Landmine, Minefields, Regional Command East, Soviet Occupation