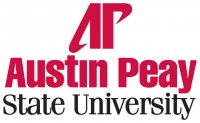 Clarksville, TN – Several faculty and students at Austin Peay State University demonstrated recent noteworthy accomplishments.
APSU mathematics students and faculty presented papers at Mathfest, the summer meeting of the Mathematical Association of America, on August 5th-6th in Pittsburgh, PA.
Students Casey McKnight and Amber O'Connell gave a presentation, titled "A Parallel Finite Element Method for the  Convection-Diffusion-Reaction Equation," while students Zachary Hodge and Jesse Hotchkin presented "The
Finite Element Method for Elliptic Problems." These projects resulted from a  course last spring in introductory finite element methods.
In addition, student Tabitha Michael, a current APSU Presidential Research Scholar Fellow under the supervision of Dr. Mary Lou Witherspoon, gave a talk, "Developmental Mathematics Through the Centuries."  Dr. Ben Ntatin, associate professor presented a paper, titled "On orbits of semi-simple Lie groups acting on flag manifolds."
Dr. Wei Ding and Dr. Yingbing Yu, both assistant professors of computer science and information technology, co-authored a paper, "Energy Saving by Centralized Sleep in Early Detection of Captured Nodes," which was accepted recently by the IEEE International Workshop on Robotic and Sensors Environments 2010. The conference will take place October 15th-16th at Arizona State University in Phoenix.
Sections
Education
Topics
Amber O'Connell, APSU, Austin Peay State University, Ben Ntatin, Casey McKnight, Jesse Hotchkin, Mary Lou Witherspoon, Mathematical Association of America, Tabitha Michael, Wei Ding, Yingbing Yu, Zachary Hodge