Written by U.S. Army Spc. Luther L. Boothe Jr.
Task Force Currahee Public Affairs, 4th Brigade Combat Team, 101st Airborne Division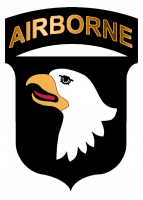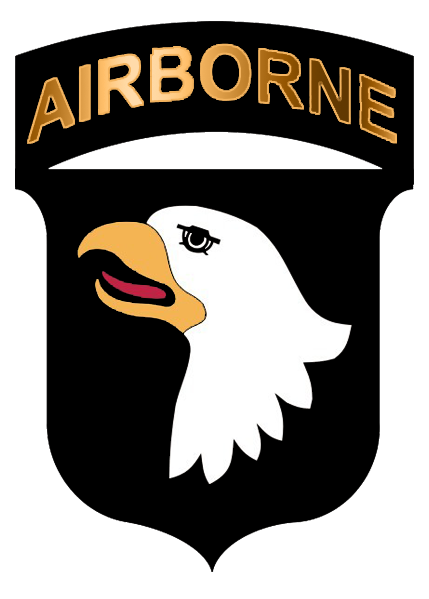 Khayr-Khot Castle, Afghanistan – Soldiers from Company C, 1st Battalion of the 506th Infantry Regiment, 4th Brigade Combat Team, 101st Airborne Division conducted a presence patrol in the city of Khayr-Khot Castle October 6th.

"We do daily, day and night presence patrols in the Khayr-Khot Castle area," said U.S. Army Sgt. David Jansky, squad leader and company counterinsurgency team member of 3rd Squad, 3rd Platoon, C Co., 1st Bn. of the 506th Inf. Regt., 4th BCT, 101st Airborne Div., and native of Towner, ND. "We talk with the villagers and try to collect any intelligence possible."

The Soldiers not only want to get as much intelligence as possible, but they want the people in the city, located within 700 meters of their forward operating base, to know they are there when they need them.

"We want to make the Afghan people feel that they are safe while we are here," said Jansky. "It is our goal to show the people that we are here for them and that we care."

The Currahees use these presence patrols to build relationships with the people of KKC.

"We try to socialize with the locals and stop by their shops, buy food or clothing from them and show them a friendly face," said U.S. Army Pvt. Randy Taylor, an infantryman with C Co., 1st Bn. of the 506th Inf. Reg., 4th BCT, 101st Airborne Div., and native of Pitkin, LA. "We want to show them that the U.S. Army is on their side."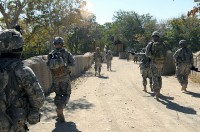 "We go into the villages, and we ask about what they need, and then we see about getting it for them," said U.S. Army Spc. Sean M. Rooney, an infantryman with C Co., 1st Bn. of the 506th, 4th BCT, 101st Airborne Div., and native of Omaha, NE. "If they need a well then we [work] to get them a well."
The Currahees have had both language and cultural training before they deployed, but many of the Soldiers on these patrols are making the effort to further their communication skills.
"We all want to put ourselves a little bit closer to the people here, but the language barrier makes it more difficult," said Rooney. "We don't know what they are saying, and they don't know what we are saying. It makes it hard for us to interact with them and for them to interact with us."
"So if we learn something from them, and they learn something from us, it brings us closer together as two different people," he said.
"I realize the more we pick up on their language and the demeanor [we] display when talking to the people, the more it helps," said U.S. Army Spc. Charles E. Demler, an infantryman with Co. C, 1st Bn. of the 506th Inf. Reg., 4th BCT, 101st Airborne Div., and native of Odessa, Texas. "We are trying to communicate with them instead of coming through and pointing … at them."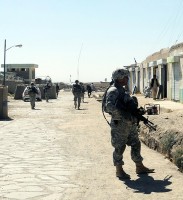 Another goal of the presence patrol is to show the local populace that the Afghan National Army soldiers are present and taking the lead.
"Personally, I do feel like these presence patrols make a difference. We get the ANA out there, we put them in the lead and have them lead the patrol," said Jansky. "So when the town sees us come through, they see the ANA out in front … They see their own people out there trying to make a difference and to take control of their own country."
It is important for the people to see that coalition forces are closely partnered with the ANA, and that they have been trained by the best, he added.
Overall, the Soldiers feel the presence patrols have successful outcomes.
"We have gathered [intelligence] from the people in the town just wanting to help us out," said Jansky.  "You [have to] give credit to somebody who is trying to stand up for their country."
"I know for sure they have to feel a very significant amount of safety from our presence here," said Rooney. "We come in, and they know that the [U.S. Army] is on their side."
Sections
News
Topics
101st Airborne Division, Afghanistan, Charles E. Demler, David Jansky, Fort Campbell KY, Forward Operating Base Khayr-Khot Castle, Khayr-Khot Castle, Patrols, Randy Taylor, Sean M. Rooney, Task Force Currahee