APSU Women's Soccer

Clarksville, TN – Austin Peay State University women's soccer team came one step closer to an Ohio Valley Conference berth with a 1-0 win against Eastern Kentucky, Sunday afternoon, on Senior Day at Morgan Brothers Soccer Field.

"It's a huge win for our team, especially with it being Senior Day," head coach Kelley Guth said. "I'm extremely pleased with our result and the way we played. They played their hearts out. It's an exciting day."

Freshman Tatiana Ariza scored her third OVC goal in the 84th minute, using some fancy footwork to beat a pair of Lady Colonel defenders, pulling out the keeper and kicking into an open net. It was a perfect ending on day where the Lady Govs (11-5-1; 3-3-1 OVC) recognized the team's six seniors, a group that has played its way to the program's first-ever winning season.

Ariza's score was no fluke, as she has scored all three Austin Peay goals in league play. She leads the team with eight goals and 20 points on the season.

"We had a number of opportunities throughout the game," Guth said. "Tatiana had a number of good chances and she's been putting them away when it counts. That's what makes or breaks games. Our team really stepped up and we had a quality performance all the way around."
With injuries taking its toll on the young Lady Govs team, Guth has been forced to play some different combinations on the field. Perhaps the most noticeable, Sunday, was to move Laurena Robinson from the defense to forward. Robinson responded with five shots, two on goal. Ariza had six shots, four on goal, while freshman Joceline Quiceno also added four shots. That trio combined for 16 of the Lady Govs 17 shots.
It was a fast-paced game as both teams were quick to transition and get into its offense. The Lady Colonels took advantage of some breakdowns in the APSU defense, but failed to capitalize. In fact, Lady Govs keeper Carley Newman made a pair of key saves in the second half, both prior to Ariza's goal.
Austin Peay's defense limited EKU (7-7-2; 4-3 OVC) to only seven shots, with Nicole Donnelly accounting for four. The Lady Colonels were no match for Newman, who notched her program-record 13th career shutout.
"It was a quick counter-attack game," Guth said. "They were dangerous on a couple of instances where we made some mistakes and got disorganized. Carley made a few big saves and that's a tribute to her.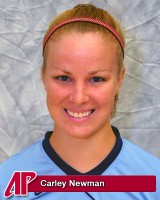 "We've been fortunate enough that we've defended very well, but when the time comes, Carley is there to get it done. We've got to learn from those mistakes. We're going to make mistakes, it happens, but as long as we can make sure they don't lead to goals, we can recover from it."
The win puts Austin Peay in clear contention for one of six spots in the OVC Tournament, all depending on how the rest of Sunday's action turns out. It would be only their second tourney appearance.
Sections
Sports
Topics
APSU, APSU Women's Soccer, Austin Peay State University, Caarley Newman, Eastern Kentucky, Joceline Quiceno, Kelley Guth, Lady Colonels, Lady Govs, Laurena Robinson, Morgan Brothers Soccer Field, Nicole Donnelly, Ohio Valley Conference, OVC, OVC Tournament, Tatiana Ariza